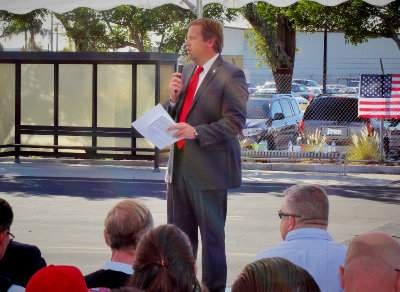 FOR IMMEDIATE RELEASE: Joel Zlotnik, (714) 560-5713, Eric Carpenter (714) 560-5697
FOR MORE INFORMATION: Nov. 12, 2015
OCTA Honors Veterans in Annual Event
Nearly 10 percent of transportation agency's workforce is made up of those who served in the military
ORANGE – The Orange County Transportation Authority this week honored employees who have served in the military and employees with relatives currently serving during OCTA's sixth annual Veterans Day Appreciation event.
OCTA employs more than 100 veterans from the Army, Air Force, Navy, Marines and Coast Guard, representing nearly 10 percent of the workforce. OCTA has been recognized by military organizations as a military-friendly employer for its efforts to actively recruit veterans.
Veterans fill a range of positions at OCTA, including coach operators, dispatchers, maintenance workers and administrative employees.
OCTA Directors Al Murray and Greg Winterbottom, along with CEO Darrell Johnson, presented the veterans with a special pin, adorned with the United States flag and the OCTA logo attached to a thank-you note.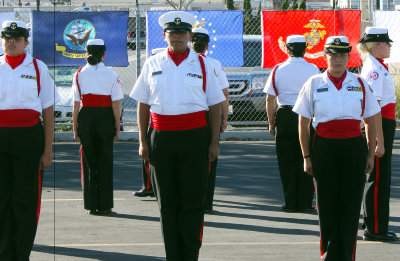 Members of the Santa Ana High School NJROTC presented colors and performed a precision military drill in honor of the veterans present.
"It's important to take time to recognize the people who work throughout OCTA who have served our country," said Winterbottom, himself a U.S. Army veteran. "It's an honor for us to salute the ongoing commitment our veterans make to ensuring our community is a better place to live."
CEO Johnson said that honoring veterans is a tradition he's proud to continue since the OCTA Veterans Day ceremony began in 2010.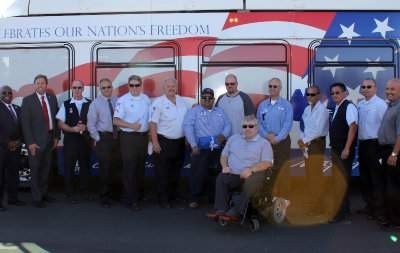 "I think so highly of the work that you have done serving our country. It's beyond words and a simple thank you hardly seems like enough," Johnson told the veterans in attendance Wednesday at the event at OCTA's Garden Grove base. "But this is a small way to say thank you for all that you have done and the dedication you continue to show. We are able to enjoy a beautiful day like this in Orange County because of your service."
OCTA employees with relatives – sons, daughters, brothers, sisters and grandchildren – serving in the military also received recognition.
In 2012, the Southern California Army Advisory Council recognized OCTA as a military friendly employer for its efforts to actively recruit veterans. Those efforts include participating in recruiting events at the Marine Corps base at Camp Pendleton, remaining engaged with local junior colleges and universities to bring aboard veterans, and coordinating events with military organizations to help veterans transition from active duty service to careers in the transportation industry.
"When I first came to OCTA I was surprised by how many veterans there were here," said Miguel Tarango, a coach operator at OCTA's Garden Grove base and an Army veteran whose son currently serves in the Navy. "It's a nice chance for us all to come together. I wasn't appreciated when I came home from the war in Vietnam, but now I feel appreciated and proud. It's nice to be recognized."
# # #