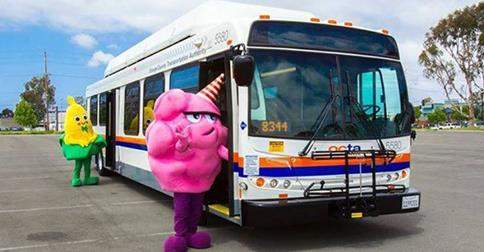 FOR IMMEDIATE RELEASE: Aug. 19, 2014
FOR MORE INFORMATION: Joel Zlotnik (714) 560-5713, Eric Carpenter (714) 560-5697

OC Fair Express Continues to Set Ridership Records
More than 76,000 fairgoers hopped aboard OCTA's special bus service this year
ORANGE – This summer, more than 76,000 people made their way to the Orange County Fair via the OC Fair Express, which set a ridership record for the second year in a row.
The special bus service offered by the Orange County Transportation Authority reported 76,952 total boardings during the five-week fair season. This year's numbers are a 31 percent increase compared to last year's total ridership of 58,706.
This year, OCTA introduced a free OC Fair Express mobile app, which boosted awareness and ridership. The app allowed fairgoers to purchase bus passes and find routes, boarding locations and schedules using their smart phones. More than 4,700 fairgoers downloaded the app and 4,224 purchased mobile tickets.
"The OC Fair Express gets better every year, and we are proud to provide this affordable and convenient service to fairgoers across the county," said OCTA Chairman Shawn Nelson. "The partnership between our team, the Orange County Fair and Mobile Source Air Pollution Reduction Review Committee continues to be successful, and we look forward to bringing back the service year after year."
The OC Fair Express provided non-stop direct service from eight park-and-ride lots to the OC Fair. Buses ran hourly between approximately noon and midnight on Friday and9:30 a.m. and midnight on Saturday and Sunday. Bus fare was $2 each way, and passengers received a coupon for $3 admission, saving up to $9 off regular ticket prices.
The OC Fair Express was made possible in part by a $601,000 grant provided by the Mobile Source Air Pollution Reduction Review Committee, which provides subsidies for cleaner transportation alternatives.
The MSRC also helps fund the Angels Express service, a partnership of OCTA and Metrolink that provides round-trip train service to all Angels weekday home games that start at 7:05 p.m. Additionally this year, the Angels Express travels to every Friday night game on the Inland Empire-Orange County Line.
For details on the trains, visit: www.octa.net/angelsexpress
# # #