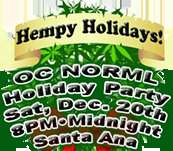 The OC NORML Holiday Party is set for Saturday, December 20th, from 8PM- Midnight in Santa Ana.
A $20 donation is requested at the door. The event includes dinner, drinks and a traditional OC NORML holiday ornament.
They are also hosting a $10 Secret Santa Exchange and an ugly holiday sweater contest as well.
RSVP to KandiceOCNORML@aol.com. The Holiday Party will be held at OC NORML's Santa Ana Office located at 117 W. 4th St. in Santa Ana, 92701 (corner of 4th & Sycamore).
The NORML Foundation, the organization's tax-exempt unit, conducts educational and research activities. Examples of the NORML Foundation's advocacy work is a detailed 2006 report, Emerging Clinical Applications For Cannabis. A comprehensive report with county-by-county marijuana arrest data, Crimes of Indiscretion: Marijuana Arrest in America, was published in 2005.
In October 1998, NORML Foundation published the NORML Report on U.S. Domestic Marijuana Production that was widely cited in the mainstream media. The report methodically estimated the value and number of cannabis plants grown in 1997, finding that Drug Enforcement Administration, state and local law enforcement agencies seized 32% of domestic cannabis plants planted that year. According to the report, "Marijuana remains the fourth largest cash crop in America despite law enforcement spending an estimated $10 billion annually to pursue efforts to outlaw the plant." Recent studies show that marijuana is larger than all other cash crops combined. In 2002, the organization used ads containing New York City mayor Michael Bloomberg quotes on his past use of pot, saying "You bet I did. And I enjoyed it." The mayor said "I'm not thrilled they're using my name. I suppose there's that First Amendment that gets in the way of me stopping it," but maintained that the NYPD will continue to vigorously enforce the laws. History
NORML was founded in 1970 by Keith Stroup funded by $5,000 from the Playboy Foundation. Since then, the organization has played a central role in the cannabis decriminalization movement. The organization has a large grassroots network with 135 chapters and over 550 lawyers. NORML holds annual conferences and Continuing Legal Education (CLE)-accredited seminars. Its board of directors has, at times, included such prominent political figures as Senators Philip Hart, Jacob K. Javits, and Ross Mirkarimi.