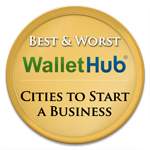 Many of us already knew it but a new study by Wallet Hub has confirmed that Santa Ana is a terrible place to try to start a new business.
Santa Ana was ranked #143 on a list of the top 150 cities in which to start a new business.  Santa Ana was ranked just below Anaheim, at #141 and just above Oakland, at #143.
Santa Ana came in dead last in terms of having an educated workforce – at #150, which was one of the reasons the city scored so low overall in terms of being a city one should open a new business in.
Other factors that weighed into Santa Ana's low overall rating included Small Businesses per Capita; Accessible Financing; Annual Household Income, Employee Availability and the cost of Office Space.
Other cities in California that ranked higher than Santa Ana included:
Stockton, at #37
Fresno, at #46
San Bernardino, at #73
Los Angeles, at #88
Riverside, at #118
San Diego, at #119
Long Beach, at #124
and Irvine at #127
Things are bound to get worse before they get better as Santa Ana City Manager David Cavazos has declared a parking war on Santa Ana residents and businesses.  Making parking more expensive for everyone will just make this city an even worse place to do business in!