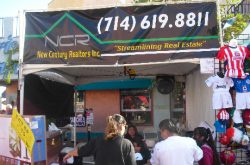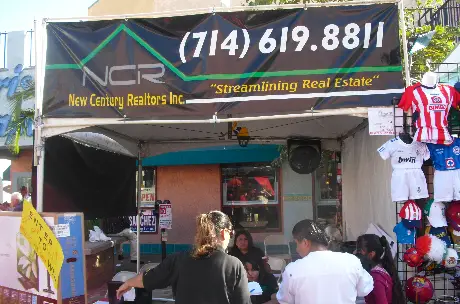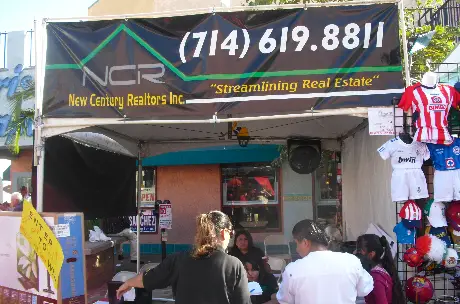 New Century Realtors & Sur Pacific at the Santa Ana Fiestas Patrias
Limited Documentation Program Home Loans
September 2010
TEACH TODAY FOR TOMORROW – HOME OWNERSHIP MADE POSSIBLE!
FOR IMMEDIATE RELEASE:
SANTA ANA – The partners Henry De La Isla, Adela Olivares and Jacquelyn Ienni of New Century Realtors and Sur Pacific have announced their 2010 companywide Give Back Program:
"Teaching Today for Tomorrow. Home Ownership made Possible!"
The companies successfully sponsored a booth on September 18 and 19, 2010 in the City of Santa Ana, CA where the Give Back Program at the Fiestas De Independence was enormously successful. Over 4,000 prospective clients spoke to Licensed Loan Officers and Real Estate Agents concerning opportunities for them to sell, purchase, Short Sale, Refinance and Streamline Home Loans. Ela Kitchen our in-house Credit Specialist was able to begin the process of assisting clients with problematic credit ratings and offer workshops in order to teach how they can help themselves.
Our plan is to educate, network and empower the Hispanic community with basic financial information to purchase a home. Our Team Members will assess their current financial situation then direct them to the correct specialist (Credit Experts, etc.) to assist them further. Our companies' belief in the old adage, "Give a man a fish; you have fed him for today. Teach a man to fish; and you have fed him for a lifetime" will translate to more responsible home ownership. The partners' belief of teaching others who have yet to realize The American Dream of becoming homeowners is critical to their connection with the community. We are proud to work and live in the always improving City of Santa Ana and are thrilled to help create the opportunity for others to call Santa Ana home.
Give Back Program: Teach Today for Tomorrow. Home Ownership Made Possible!"
Mission:
To shed light on responsible Home Ownership and Home Loan options
To refer them to our Credit Experts (if necessary)
Explaining the advantages of Home Ownership
Giving the community the tools, products and services to achieve the American Dream – Responsible Home Ownership
For further comment or interviews, please contact Dori Avila, Marketing Director, at 714.619.8811ext. 219 or Andy Molina, Assistant Marketing Director.
For over 20 years New Century Realtors and Sur Pacific have built solid relationships and taught their clients how to choose a home they can afford and a home loan program that makes sense so they can acquire the American Dream without defaulting on their mortgage.