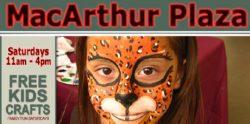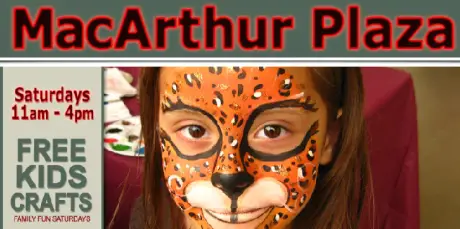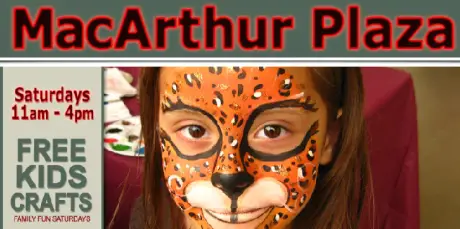 Sat. 11-4 PM, Family Fun Day: Kidding Around the Kitchen. Family Fun Day activities include free face-painting, free kid's arts and crafts, and free kids' entertainment ranging from magic acts, storytelling, to this Saturday's special guest, Kidding Around the Kitchen.
Sat., September 25, 12-2PM, Kidding Around the Kitchen. This Sat, September 25, 12-2PM, the Plaza will host a special event with Lisa Fontanesi, the creator of Kidding Around the Kitchen. Ms. Fontanesi will be making Fall Fruit Parfaits with home made maple granola, fall fruits and Greek yogurt with the kids. Ms Fontanesi will also be teaching families how to read labels and understand how much sugar is in the foods we eat and drink and offer some healthy alternatives to sugar.
The Plaza has been undergoing construction to create a new entranceway at the corner of MacArthur Place and East MacArthur Boulevard, which would allow more pedestrian traffic into the center. "We hope that this new entrance makes it easier for people who live and work near MacArthur Plaza to come and enjoy what we offer," said David Fried, owner. "We hope that the community sees this entranceway as an invitation to come to the Plaza and join in our events, dine in our restaurants, and recognize us as part of the community."
Wed. 6-8 PM, Jazz Band, Soul FX: Each Wednesday night, MacArthur Plaza offers Chill Out Wednesdays which features live jazz from Soul FX, a local jazz/R&B quintet with some of the most highly demanded jazz musicians in L.A. and Orange Counties.
Thur. 6-8 PM, Blues Band, The Budrows: Twilight Thursday featuring live blues music from The Budrows, a father/daughter combo that is famous for playing vintage blues on guitars literally made from cigar boxes.
Thur. Buy One Get One Free Dinner: The Plaza also offers via a coupon on its website, a "buy one get one free" dinner special on Thursdays at selected restaurants. In addition to this offer, Alto Italia (one of the plaza's most celebrated restaurants, having one "Best Pizza in Orange County") offers Happy Hour Specials from 4pm to 8pm each weeknight.
Click here to visit our website, for the latest specials and events!