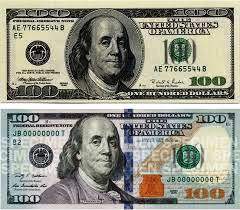 OFFICE OF THE TREASURER-TAX COLLECTOR
SHARI L. FREIDENRICH, CPA, CCMT, CPFA, CPFIM
PRESS RELEASE, FOR IMMEDIATE RELEASE
Contact: Shari Freidenrich, October 8, 2013 (714) 834-7625
NEW $100 NOTE RELEASED INTO CIRCULATION TODAY!
Orange County Treasurer-Tax Collector Shari L. Freidenrich, CPA, announced that the $100 note is the latest U.S. currency to be redesigned by the Federal Reserve and includes new security features developed over the last decade. The $100 note is the largest denomination that has been printed since 1969. This note is commonly referred to as a "Benjamin" as the image of Benjamin Franklin is printed on the back of the note. It is one of only two notes that does not feature a President of the United States. This note will be easier for the public to authenticate, but more difficult for counterfeiters to replicate. As with all other U.S. currency, the note includes the signature of the U.S. Treasurer.
Two new advanced security features added offer a simple way to authenticate if a note is real. First, on the front in about the middle of the note, there is a blue ribbon that when you tilt the note back and forth, the bells change to 100s and depending on how you tilt the note, they either move side to side or up and down. Secondly, to the right of the ribbon, there is a color-shifting bell, inside a copper-colored inkwell. If you tilt the note, you will see the bell change from copper to green, an effect which makes the bell seem to appear and disappear within the inkwell. The note also contains previously used security features such as the portrait watermark, security threads, color-shifting 100, raised printing, and microprinting.
For further information on all of the security features and information, go to newmoney.gov. The website also offers free training and education materials that can be downloaded or ordered.
/S/ Shari L. Freidenrich
Orange County Treasurer-Tax Collector
###