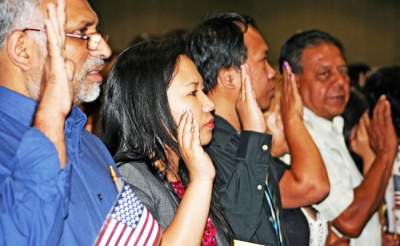 A Public Law Center Naturalization Clinic is set for Saturday, February 16, 2013, from 9am-3pm, at the El Sol Science and Arts Academy, located at 1010 N. Broadway St., in Santa Ana.
The Public Law Center Citizenship clinics provide legal screening and review for all clients, as well as assistance with fee waivers, all free of charge.  Please be aware that we will not be accepting walk-in clients.  Anyone interested in an appointment should call the Naturalization Line at Public Law Center: (714) 541 -1010 x 223.
Eligibility Requirements:
At least 18 years of age

Legal Permanent Resident for at least 5 

years, or 3 years if married to a U.S. citizen

Have basic knowledge of U.S. History and 

Government

Able to read, write, speak and understand 

basic English

Good moral character
Benefits of Becoming a Citizen:
Voting and representing your 

community

Reunite with your family

More job opportunities
THE FOLLOWING DOCUMENTS ARE REQUIRED TO COMPLETE THE N-400
CITIZENSHIP APPLICATION FORM
IDENTIFICATION:
Driver's License or California Identification Card — Social Security Card — Permanent Resident Card (Green Card)
TRIPS TAKEN OUTSIDE THE UNITED STATES FOR MORE THAN 24 HOURS: (month, day, and year)
Dates of departure and return from all trips taken outside of the United States since becoming a legal permanent resident, including trips taken to Tijuana (specific dates for trips to Tijuana not needed, but are required to declare).
ADDRESSES OF RESIDENCE:
Addresses of all places of residence during the past 5 years. Please have dates of when you moved in and out of each place.
EMPLOYMENT HISTORY:
Names of each company of employment in the past 5 years — Address of each place of employment. Start and end dates of employment with each company — Position held at each company.
CURRENT MARITAL STATUS:
Complete name of spouse — Address — Date of birth — Date of matrimony (official court date) — Social Security number. If your spouse is a legal permanent resident: you must bring his/her "A" number (located on green card).
If your spouse is a naturalized U.S. Citizen: you must know the date and place where ceremony occurred.
PREVIOUS MARITAL STATUS:
Complete name of spouse.
Date of matrimony and divorce (official court date). If widowed, date of death.  If your current spouse is divorced or widowed: name, date of matrimony, and date of divorce or death.
CHILDREN:
Complete name — Date of birth — Country of birth — Address of residence for each child. If they are legal permanent residents: "A" number (located on green card).
SELECTIVE SERVICE: (ONLY FOR MALES BETWEEN THE AGES OF 18 AND 26)
Selective Service Number and date of registry. If you do not know your registration number and do not remember when you registered, call (847)688-6888 to receive information.
OPTIONAL: $680.00 money order or check made payable to U.S. Department of Homeland Security. If you are 75 years of age or older, your fee total is $595.