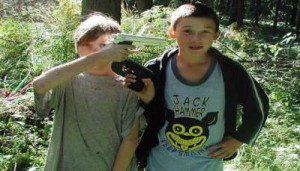 "Santa Ana's John Muir Fundamental Elementary School maintained a place in the Register's top 10 for a second year, placing at No. 6 even with a student population that is 59 percent economically disadvantaged. Muir's primary advantage over other Santa Ana Unified campuses is that families elect to send their kids to the school, making it one of the district's three such elementary schools of choice," according to today's O.C. Register.
All of my four children have gone to Muir and one of them is still there, in the fourth grade GATE program.  So we know from personal experience that Muir is a great school.  That might explain why the Muir administrators and the Santa Ana Unified School District (SAUSD) chose not to reveal that a fifth grader, as we reported on January 24, brought a pellet gun to school and waited for his victim to come his way.  The O.C. Register ignored this incident.
My son tells me that the pellet gun was an Airsoft gun.  "Airsoft guns are replica firearms used in airsoft that fire plastic pellets by way of compressed gas or electric and/or spring-driven pistons. These guns are designed to be non-lethal and to provide realistic replicas," according to Wikipedia.
The fifth grader in question has apparently returned to school, as of last week.  To date there has been no report by the Muir administrators – although the district, via the Chief of the School Police, confirmed the incident via email when I queried them about it.
The Santa Ana School Police investigated the matter to determine what happened and if "criminal intent can be alleged and/or proven or whether this matter will be resolved administratively by the on site Administration along with concurrence by our Student Support Services division to address the behavior of the student(s) involved," according to the SAUSD School Police Chief, David Valentin.
But the results of that police investigation never saw the light of day.
John Muir Fundamental Elementary is a special school in great part because parents choose to send their kids there.  We do so because the school has rigorous standards.  That this incident went by unreported and was resolved without informing the parents is deeply disturbing.
Was the incident deemed a harmless prank?  My son tells me that the target who was shot is a kid who gets picked on by everyone.  Bullying should not be an acceptable norm at John Muir!
Unlike other parents I don't want to see the fifth grade shooter ruined by this incident but many questions remain.  My son says that every kid in that classroom knew the incident was going down and no one told their teacher in advance.  That's not good.  And how in the world did the shooter sneak a pellet gun onto campus?  How did no one see him lying in wait?
We don't send our kids to Muir just because of the educational experience.  We send them there to be safe too.  This incident tells us the school isn't as safe as we thought.  And apparently John Muir's behavioral standards are not what we expected either.