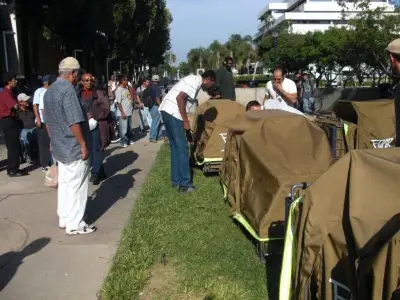 New Orange County Board of Supervisors Chairman John Moorlach has challenged "officials from the city of Santa Ana over his plans to use a defunct bus station in the midst of Santa Ana's downtown to feed, and potentially house, homeless people," according to the Voice of OC.
Our County government has done a poor job of serving the homeless.  They freeze at night for lack of beds and four of them were killed in recent weeks by a serial killer.  But hasn't the City of Santa Ana been impacted enough by this?
Why not set up a permanent encampment for the homeless over at the Great Park in Irvine?  They have plenty of space.  I am sure the OCTA can set up a bus line to give them rides to their new home.
Barring that, how about the old YMCA building in downtown Santa Ana?  Let the County pay to abate all the asbestos and lead in there and we can house the homeless there!
I don't think we ought to waste the old bus station in Downtown in this manner.  But we do have a shortage of beds.  Isn't it time for Irvine to do more for the poor?