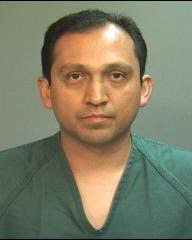 Santa Ana Police Department
Advisory: Request Media and publice assistance an identifying additinal victims in serial rape case. Suspect in custody.
Arrestee: Jose Luis Capacete, Age 39, 5'7", 145, thin build, blk/brn, short hair
Vehicle(s): Chrysler, Town and Country, 2001, dark green mini van, license plate #5KSM113. Honda Accord, black, 4-Door, 1997, license plate #6GMX802
SYNOPSIS: On 12-24-11, Capacete picked up a female on Harbor Blvd, in the City of Santa Ana. Once the victim was inside Capacete's vehicle, Capacete produced a handgun and a taser. The victim's hands were tied behind her back and she was sexually assaulted in the van. Evidence left at the scene led detectives to investigate suspect Capacete. A search warrant was performed at the suspects residence in the city of Baldwin Park where items were recovered as evidence leading detectives to believe that there are additional victims. To date two of the additional victims have been identified and detectives are following up.
Capacete was booked for the December 24, 2011 incident at the Santa Ana Jail on charges of kidnapping with intent to rape (PC 209) and rape (PC 261). Is bail is currently set at $1,000,000
The Santa Ana Police Department believes that the suspect has been commiting these violent acts for at least a year and is going to the Media for assistance in locating additional victims and or wittnesses.
The Santa Ana Police Department is asking anyone with information regarding the crime to call OC Crime Stoppers anonymous tip line at 855-TIP-OCCS (847-6227) or submit a tip online at www.occrimestoppers.org or Santa Ana Police Department Detectives Det. M. Judson-714-245-8378 and/or Det. R. Perez 714-245-8379
###