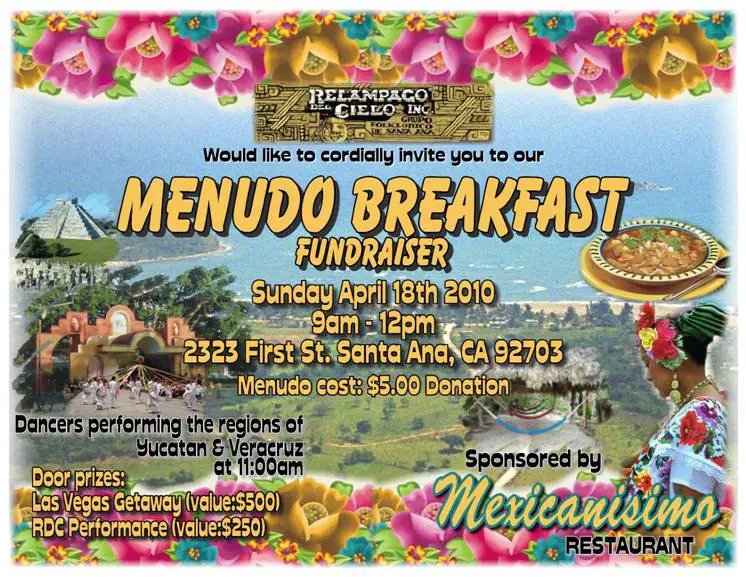 Santa Ana's Relampago del Cielo is having a Menudo Breakfast Fundraiser on Sunday, April 18, from 9 am to 12 pm, at the Mexicanisimo Restaurant, located at 2325 First St., in Santa Ana.  A donation of $5 is requested.
Dancers will be performing, from the regions of Yucatan and Veracruz, at 11 am.  There will also be door prizes, including a Las Vegas getaway valued at $500 and a performance of Relampago del Cielo valued at $250.
Relámpago del Cielo Inc. (RDC) , a 501(c)3 non-profit organization is celebrating it's 35th Anniversary. Enthralled by the music and movement learned in classes taught by Ms. Rosie Peña at Santa Ana College, a handful of her students resolved to join forces in expanding their newly discovered appreciation of the folklore of Mexico.
Encouraged and guided by their enthusiastic instructor, their vision soon gained momentum with the recruitment of other equally-minded individuals. This dream culminated in the formation, in 1975, of Relámpago del Cielo Grupo Folklórico.
The "Grupo", not satisfied in simply learning the prescribed steps to the dances, felt the cultural inclination to learning the why and wherefore of this musical heritage. This need was met by the founding of Relámpago del Cielo, Inc. Through the advent of this cultural and artistic organization, an umbrella opened to accommodate the study of the history, geography and customs as well as the music of the varied regions of Mexico.
Click here to learn more about Relampago del Cielo.