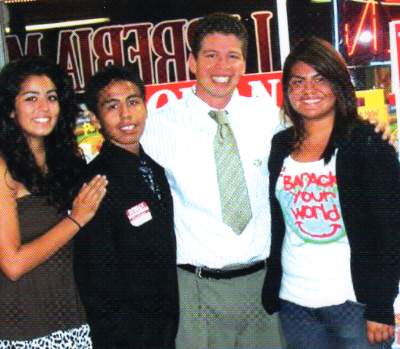 Thursday November 15, 2012, 3:55 PM
City of Santa Ana, Downtown Orange County
Community: Please Join Us Tonight at Com-Link Forum Meeting to Welcome Newly Elected City Officials
SANTA ANA, CA (November 15, 2012) – The Communication Linkage (Com-Link) Forum Meeting is scheduled for this evening, Thursday, November 15, 2012 at 6:45 p.m. and will be held at the Santa Ana Police Department Community Room – 60 Civic Center Plaza in Santa Ana.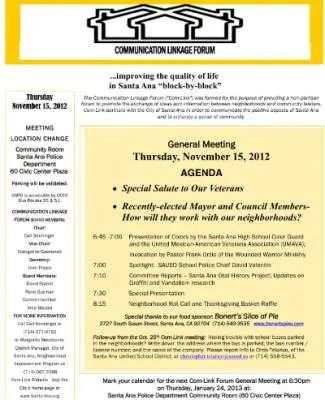 The meeting will begin at 6:45pm with a special salute to Veterans, followed by a presentation by SAUSD School Police Chief David Valentin. Tonight's feature presenters include the recently-elected Santa Ana Mayor and Ward 1, 3, and 5 City Council members. You are invited to attend and meet your newly-elected representatives. Mayor Miguel Pulido, Council member Vince Sarmiento, Council member-elect Angelica Amezcua, and Council member-elect Roman Reyna have confirmed their participation for tonight's Com-Link Meeting.
For more information, please contact the City of Santa Ana Neighborhood Improvement Program at (714) 667-2260.
####