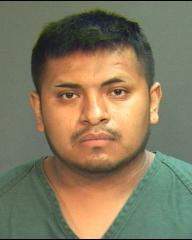 Santa Ana Police Department Advisory: Santa Ana Police make arrest in homicide case
On, 11/13/2012, at 1939 hours, Officers were dispatched to 200 N. Laurel for a person down in the west alley. Upon arrival, they located a female on the ground suffering from several stab wounds. Paramedics from the Orange County Fire Authority arrived and pronounced the female deceased.
The female was identified as 21 year old Maria Isabel Cerrillo of Santa Ana.
Today, at 9:00 am, the homicide detectives located and arrested suspect, Luis Antonio Garcia Morales in the area of First Street and Harbor without incident.
He was transported to the Santa Ana Police Department and interviewed as to his involvement in the homicide. Based on the evidence, investigative leads and the interview, suspect Morales, he was booked at the Santa Ana Jail for the murder of victim Cerrillo.
Suspect is being held in the Santa Ana Jail on $1 million dollars bail. For further details on the arrest, contact PIO Anthony Bertagna.
###