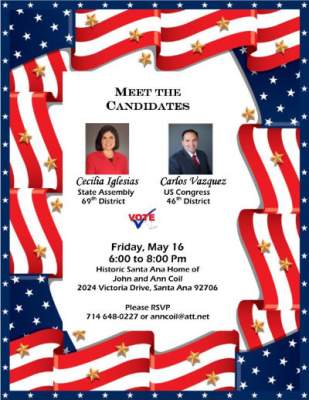 You can meet Cecilia Iglesias, a candidate for the 69th Assembly District, and Carlos Vazquez, a candidate for the 46th Congressional District on Friday, May 16, 2014, from 6 to 8 pm, at the home of John and Anna Coil, located at 2024 Victoria Drive in Santa Ana.
RSVP to anncoil@att.net or call 714-648-0227.
Iglesias was the top vote-getter for the SAUSD School Board in 2012.  She is also a representative of State Senator Mimi Walters.  Iglesias immigrated to the United States and to Central Orange County three decades ago. She is a proud product of Central Orange County public schools and earned degrees at Santa Ana College and Cal State Fullerton. Her child attends a Central Orange County public school.
Vazquez has worked as both a psychologist assistant and a physician's office manager. He currently is a Financial Advisor with an emphasis on behavioral finance and the president of the "Circle of Insight", a think tank consisting of engineers, scientists, elected public servants, foreign dignitaries, church leaders, and educators who deliberate on the challenging issues of our time and offer common sense solutions to these problems.