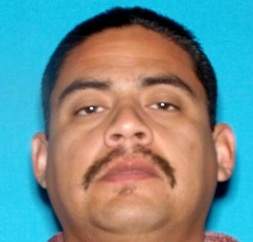 Paul William Guzman (39) Santa Ana was shot to death on Wednesday, at about 2:50 p.m., at the 1100 block of West Chestnut Avenue, near Santa Ana High School, which is on Spring Break, according to CBS News.
A female neighbor of the victim said that he had been talking to another man in his front yard, when she heard what sounded like three gunshots.
SAPD detectives' preliminary investigation has revealed victim Guzman and the suspect were acquaintances. It appears that an argument occurred between the two prior to the shooting, according to the SAPD.
Officials do not think the shooting was gang-related, according to the O.C. Register.
The police recovered a weapon about a block away.  The SAPD determined that the shooter left in the eastbound direction and they were looking through trash cans to see if he tossed any evidence.  That is how they found the gun.
The suspect was wearing a blue jacket.  They found the jacket, with the handgun inside it.
The suspect got away even though the shooting happened about a mile away from the Santa Ana Police Department's headquarters.
The Orange County Fire Authority Paramedics responded and transported Guzman to Western Medical Center-Santa Ana, where he later died of his injuries.
The suspect's name is being withheld at this time due to ongoing efforts by law enforcement to locate him.
The shooting happened in Santa Ana's Ward 5, which is represented by Councilman Roman Reyna.