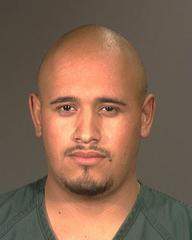 Santa Ana Police Department
Advisory: Orange County Cold Case Homicide Task Force Arrests Fugitive On Santa Ana Police Department's Most Wanted List
Suspect: BRAVO, Dennis (34)
Case #: SAPD # 01-17469, OC Court Case # 01CF1639
On April 21, 2001, Santa Ana Police officers responded to Plumbers Hall, 3904 West 1st Street, regarding a "shots fired" call. The officers located a victim who had been shot, in the abdomen, and critically injured. The victim was transported to the hospital.
The investigation revealed that the victim was assaulted by members of the Barrio Small Town Gang. Suspect Dennis Bravo was identified as having participated in the assault. Bravo was subsequently arrested by SAPD Detectives for attempt murder.
On July 18, 2001, a preliminary hearing was held and Bravo was held to answer on criminal charges including attempted murder and additional gang enhancements.
In December 2001, Bravo posted bail and absconded. An arrest warrant, for the violation of attempt murder, was issued by the Judge. Bravo was placed on the Santa Ana Police Department's "Most Wanted" list.
In October 2015, Detectives assigned to the Orange County Cold Case Homicide Task Force obtained an anonymous tip from Orange County Crime Stoppers providing an investigative lead which indicated Bravo was residing in Tijuana, Baja California, Mexico. The Task Force worked in conjunction with the Federal Bureau of Investigations and the Mexico State Police.
The Mexico State Police, utilizing the provided leads, located and detained Bravo in Tijuana. Bravo was transported to the U.S. International Border, San Ysidro, and released to the custody of the U.S. Custom and Border Protection Agents.
Members of the O.C. Cold Case Homicide Task Force drove to San Ysidro, California, and took custody of Bravo. Bravo was transported and booked at the Santa Ana Police Department Jail where he is being held on 1 million dollars bail.
###