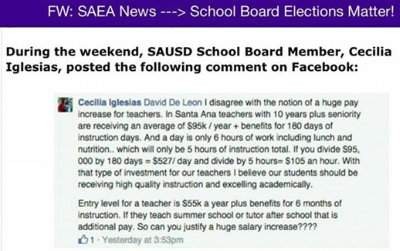 The Santa Ana Educators' Association (SAEA) has declared war on SAUSD Trustee Cecilia Iglesias after she posted a comment on Facebook back in September.
Here is the comment Iglesias posted – that riled up the teachers' union:
I disagree with the notion of a huge pay increase for teachers. In Santa Ana teachers with 10 years plus seniority are receiving an average of $95k / year + benefits for 180 days of instruction days. And a day is only 6 hours of work including lunch and nutrition.. which will only be 5 hours of instruction total. If you divide $95, 000 by 180 days = $527/ day and divide by 5 hours= $105 an hour. With that type of investment for our teachers I believe our students should be receiving high quality instruction and excelling academically.

Entry level for a teacher is $55k a year plus benefits for 6 months of instruction. If they teach summer school or tutor after school that is additional pay. So can you justify a huge salary increase????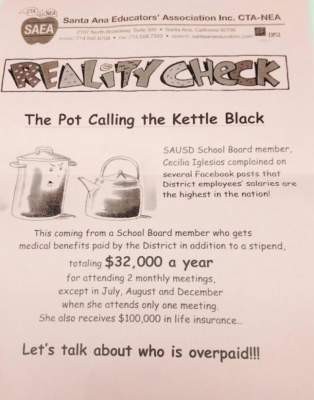 The SAEA responded to the comment with a flyer that was placed in the SAUSD teachers' school mailboxes (see the graphic atop this paragraph).
Iglesias has accused Susan Mercer, the union president, of "falsifying information just to encourage teachers to come to the school board meeting and rally against her."
Iglesias also says that Mercer made allegations at a SAUSD School  Board meeting stating that Iglesias has disrespected the teachers.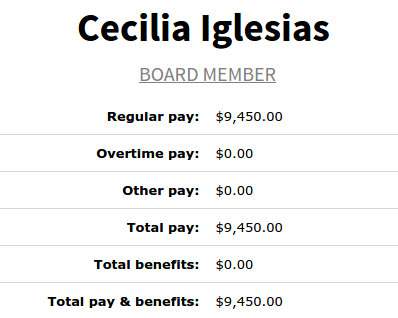 The flyer distributed by the union accuses Iglesias of earning over $32,000 a year in medical benefits and her School Board stipend.  Oops!  Turns out Mercer and her union pals are quite wrong about that.
You can research what district employees earn at the Transparent California webpage. They report that Iglesias only makes $9,450/year. She does not receive benefits from the SAUSD.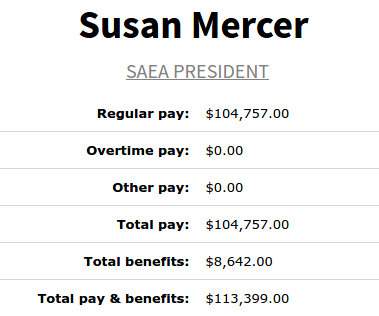 But if you look up what Mercer is paid – it is pretty substantial!  She earns over $113K a year.
And the other SAUSD School Board Members make a lot more than Ceci does. In fact she is paid the least of all the School Board members!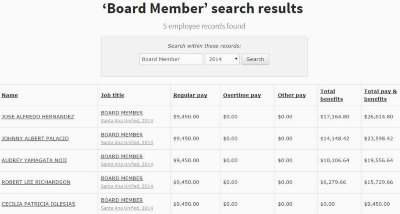 It is too bad that the teachers' union is at odds with Iglesias.  Her comments were somewhat inflammatory however and ill-advised. But her heart is in the right place. She is frustrated at the low literacy rates at the SAUSD, as we all should be.
That said most teachers work a lot more than five hours a day – and many of them use their own money to pay for school supplies.  I have even known of teachers who have bought dinner for students they knew were going without food when they got home.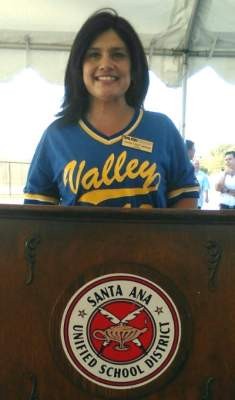 I am not sure why Iglesias picked a fight with the teachers' union.  You can bet that they will spend a fortune next year to try to defeat her at the ballot box.
The reality is that the overpaid employees at the SAUSD are not the teachers but rather the administrators.  Click here to see for yourself.  The SAUSD Superintendent makes over $363K in pay and benefits!