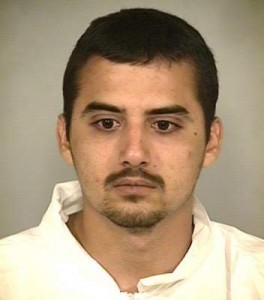 ORANGE COUNTY DISTRICT ATTORNEY PRESS RELEASE
Case # 15WF1708
Date: August 5, 2015
MAN TO BE ARRAIGNED FOR STABBING-MURDER OF STEPBROTHER IN GARDEN GROVE HOME
SANTA ANA, Calif. – A man is scheduled to be arraigned this afternoon for the stabbing murder of his stepbrother in their Garden Grove home. Andres Adolfo Serrat, 25, is charged with one felony count of murder with a sentencing enhancement for the personal use of a knife. If convicted, Serrat faces a maximum sentence of 26 years to life in state prison. The defendant is being held on $1 million bail and is scheduled to be arraigned today, Aug. 5, 2015, in Department CJ-1, Central Jail, Santa Ana. The time is to be determined.
At the time of the crime, the defendant lived with his stepbrother, 20-year-old Donte Barcelona and other family members.
At approximately 6:00 p.m. on Aug. 3, 2015, Serrat is accused of using a knife to stab the victim in the chest and the side of his stomach. Serrat is accused of fleeing from the residence.
A relative of the two victims was in the home at the time of the crime and called the Garden Grove Police Department (GGPD). Shortly thereafter, paramedics responded to the scene and transported the victim to the University of California, Irvine Medical Center where the victim died from the stab wounds. GGPD investigated this case, and arrested the defendant several blocks from the residence.
Senior Deputy District Attorney Cynthia Herrera of the Homicide Unit is prosecuting this case.
###