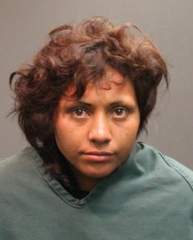 Santa Ana Police Department
Advisory: Woman In Stolen Vehicle Arrested After Pursuit
Arrested: Jessica Suarez Sanchez – (23) Anaheim
Charges: CVC 10851 Auto Theft, CPC 496 Possession of Stolen Property, CPC 245 ADW, CVC 2800.2 Evading and CVC 23103 (a) Reckless Driving
Summary: Wed, 8/5/15 at 10 pm officers were dispatched to 2909 S. Bristol Street regarding a female down in the middle of the street. Callers reported that the female was sitting in a traffic lane and appeared to be dazed.
When officers arrived, the female got out of the street and got into a nearby green Ford van and drove away. The officers followed the van to stop it to check on the female's condition when a license plate check revealed it was reported stolen earlier in the night.
Officers activated their emergency lights and siren but the female did not yield. The female driver and sole occupant led officers on slow speed pursuit (less than 40 MPH). Suspect Sanchez drove into the alley behind 2300 S. Fairview, where a unit that was paralleling the pursuit waited. The female then intentionally drove into the unoccupied police vehicle and tried to flee on foot.
Responding officers took the combative female into custody. The suspect was uninjured as a result of this incident. However, the officer whose vehicle was collided into sustained a minor injury when he was struck by a large trash container that was struck during the collision.
The unit that was collided into by the suspect sustained major front end damage. The suspect was booked into the Santa Ana Police Jail on various charges.
###