The Santa Ana City Council continued their habit of raising fees whenever possible by voting 5-1 to increase parking rates at garages and meters across the city.  City meters and garages will see their rates climb to as much as $1.50 per hour. The current rates vary between $0.75 and $1 per hour, according to the O.C. Register.
The City Council tried to soften the blow by promising that the higher parking rates will be used to pay for improvements including new public restrooms, security cameras and LED lighting.  The rates will increase once the improvements have been completed.
Many residents have been complaining that Santa Ana parking enforcement tickets them when the light on the parking meters is still green. This is an added abuse on top of all the complaints about Santa Ana parking enforcement officers standing by cars waiting for meters to expire.
The downside of raising parking fees in Downtown Santa Ana specifically is that there is increasing competition for the hipster restaurants and bars that have located in DTSA.  There are now gourmet food courts in Anaheim and in Tustin as well as in Mission Viejo.  And Costa Mesa and Long Beach also offer all sorts of hipster fun.
Parking is free in the Downtown marketplaces in Brea, Anaheim and Orange.  But in Santa Ana you will now pay more – so you can pay more for food you can easily get for less elsewhere.  And if you are unlucky enough to come across a jerk parking enforcement officer you can also expect to pay for a $56 parking ticket.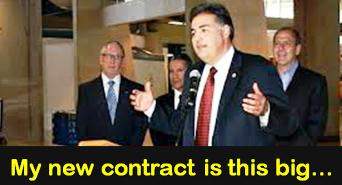 Where is all this coming from?  Look no further than Santa Ana's grossly overpaid City Manager, David Cavazos.  He came to Santa Ana with a well-earned reputation for raising taxes and fees in Phoenix, the city that previously employed him.  Cavazos also arranged for a nice raise before he left Phoenix – pumping up his pension in the process.
The Santa Ana City Council unwisely hired Cavazos after they canned our previous City Manager, Paul Walters, who saved our city from bankruptcy only to be summarily dismissed. Walters landed on his feet as he is now the Chief of Staff to Orange County Supervisor Lisa Bartlett.
The problem with raising fees and taxes is that eventually you chase business and consumers away.  The Santa Ana City Council includes two public school teachers, a lawyer, an overpaid non-profit executive and two Council Members whose employment is questionable.  Is it any wonder that they are hurting businesses in Santa Ana?  They simply have no clue.