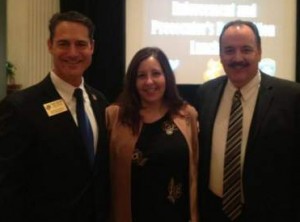 ORANGE COUNTY DISTRICT ATTORNEY PRESS RELEASE
Date: March 25, 2015
MADD HONORS 14 OCDA ATTORNEYS FOR EXCEPTIONAL PROSECUTION OF DRUNKEN DRIVING CASES
SANTA ANA – The Orange County chapter of Mothers Against Drunk Driving (MADD) honored 14 Orange County deputy district attorneys today for their time and effort in prosecuting driving under the influence (DUI) cases in 2014. MADD hosted the 28th Annual Law Enforcement and Prosecutor Recognition Luncheon today, March 25, 2015, to honor Orange County prosecutors and police officers for their outstanding contributions to the prosecution of DUI cases. The luncheon was held at the Richard Nixon Library and Birthplace in Yorba Linda.
At the luncheon, six Orange County District Attorney (OCDA) prosecutors including Senior Deputy District Attorney Jennifer Walker and Deputy District Attorneys Jim Bilek, Devin Campbell, Stephen Cornwell, Anna McIntire, Devin Campbell, and Nick Miller, received the 2015 Diligent Prosecutor Award to recognize their support to victims and their families and diligent efforts in criminal prosecution of DUI defendants. Each was nominated by their OCDA supervisor or a MADD victim advocate. The recipients were verbally recognized and received a plaque at the luncheon.
Additionally, the eight members of the DUI-Drug (DUID) vertical prosecution team were recognized for their collective efforts to prosecute drug impaired, and combination (alcohol and drug) impaired drivers. The DUID team members recognized for their efforts were Hoon Chang, Anna Chinowth, Shiba Etemadian, Ed Grubaugh, James Hong, Jake Jondle, Sherin Larijani, Nick Miller, and Erika Pennington.
The 14 honored deputy district attorneys prosecuted defendants who faced charges ranging from misdemeanor driving under the influence to felony murder. The efforts of the prosecution resulted in the defendants' convictions with sentences as high as 30 years to life in state prison.
MADD is a nationwide, non-profit organization that works to stop drunken driving, support victims, survivors, and families affected by drunken driving, and prevent underage drinking. The Orange County Chapter of MADD was formed in 1981 and offers services and education to the local community, including youth programs, victim services, and special events. MADD works closely with Orange County law enforcement agencies to support the prosecution and apprehension of those who put the public at risk by driving under the influence of alcohol.
###
TONY RACKAUCKAS, District Attorney
Susan Kang Schroeder, Chief of Staff
Office: 714-347-8408
Cell: 714-292-2718