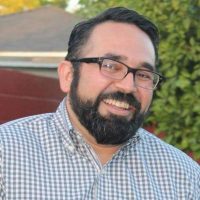 FOR IMMEDIATE RELEASE: August 13, 2016
Benjamin Vazquez, an Educator and Community Organizer will bring his values to the City Council Chambers
Santa Ana — Mayoral Candidate Benjamin Vazquez is pleased to announce his candidacy on August 11, 2016. After 14 years of teaching as an SAUSD Educator and close to 6 years as a Community Organizer, Benjamin has decided to try to impact the larger Santa Ana Community.
In July, Benjamin announced to community leaders that he would be running for Mayor of Santa Ana. He has garnered the support of many.
"Santa Ana has yet to meet its utmost potential. I believe that together we can create a Santa Ana that works for everybody! I believe that some leadership change is long overdue. I look forward to working with all of Santa Ana residents, the City Council, and city leaders as the next Mayor of this city."
Benjamin will be holding his Campaign Kick-O  this Saturday, August 13 and will continue contacting voters for their support.
Election day is Tuesday, Nov. 8, 2016. You can learn more about Benjamin Vazquez and his campaign by visiting www.benjamin4mayor.com.
For more information, contact Hugo Muñoz at (714) 496-2667.