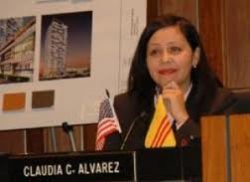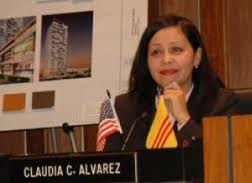 Claudia Alvarez, the former Santa Ana City Council Member and current Rancho Santiago Community College District Trustee, is facing a serious challenge to her seat this November as several candidates have filed to run against her.
One of the candidates, Cecilia Aguinaga, has run for office several times and has come close to winning a seat on the SAUSD School Board. Another candidate, Steven Nguyen, has had more recent electoral success as he was elected to the OC GOP Central Committee in this year's June Primary Election. You might know his dad – OC Clerk-Recorder ∫ç.
Alvarez has incurred the wrath of the Rancho Santiago Community College District's Faculty Association as she has been generally regarded as a useless Trustee. She was recruited for the Rancho board by fellow Trustee John Hanna, who has been equally useless as has their ally, Ariana Barrios, a PR consultant who does a lot of work for the crooked former Mayor of Anaheim turned lobbyist, Curt Pringle.
The Rancho Trustees have in particular lived high on the hog, traveling often on taxpayer dollars and charging the district for their tomfoolery. They have also supported a ridiculous effort by the Rancho Santiago Community College Foundation to partner with the woman-bashing Saudis to launch schools in Saudi Arabia, which makes zero sense.
Nguyen in particular figures to be able to raise a lot of money. He grew up in Santa Ana and his father, Hugh Nguyen, is not only the highest-ranking Vietnamese American politician in Orange County, he is also the son of a Vietnam War veteran. As such the younger Nguyen figures to get a lot of support, not only from the business community but also from veterans.  I would imagine that the Orange County Lincoln Club will surely support him vigorously. He is finishing an AA degree that he worked on at both Irvine Valley College and Santa Ana College and will be transferring soon to CSUF. He also works as a recruiter at the Orange County Probation Department.
Nguyen also has a cultural advantage. While his dad Hugh is half-Vietnamese, his mom is a Mexican-American. In fact Steven speaks fluent Spanish!
Aguinaga's presence on the ballot is also bad news for Alvarez as she figures to split the woman voters with Alvarez. That gives Nguyen a clear advantage.
Alvarez has long been scorned for her behavior when she was on the Santa Ana City Council. She once compared a wealthy downtown Santa Ana developer to Hitler only to have the attack backfire on her, in Trump fashion, when the developer turned out to be Jewish. Oy vey!
Those who despise Alvarez will surely be happy to vote for someone else this November.