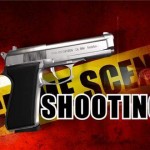 There was a shooting in Santa Ana last night at 2500 West Borchard, at about 8PM.
An adult male victim was driving and making a turning movement in front of his house when the suspect vehicle almost collided with him. The victim apologized and the suspect stopped his vehicle and a passenger exited and fired a gun at the victim. The victim's car was hit and fortunately, the victim was not injured.
Then today at about 5 p.m. at 400 South Hesperian an officer was responding to an emergency call when a male suspect shot multiple times at the officers. The officers were not hit but residents' vehicles were hit by gunfire. The scene is still actively being worked.
We ask again, as violence spirals out of control in our city, when is the SAPD's Police Chief or our overpaid City Manager going to be held accountable? What is being done to address this? Patrol shifts continue to be staffed well below minimum levels. This is simply not acceptable!