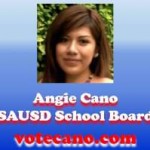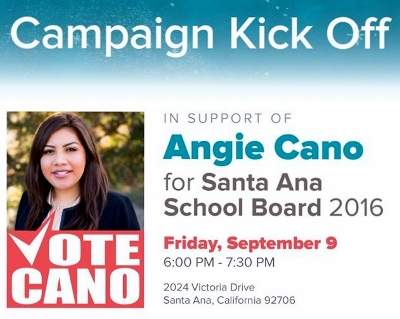 SAUSD and UCI grad Angie Cano is running for the SAUSD School Board again this year and will be hosting a campaign kickoff on Friday, Sep. 9, 2016, from 6 p.m. to 7:30 p.m., at 2024 Victoria Drive, in Santa Ana.
Cano is allied with current SAUSD Trustee Ceci Iglesias, who is also up for re-election this November.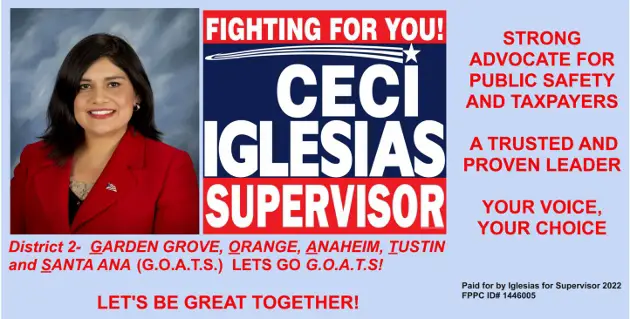 Both Cano and Iglesias are supporters of charter schools and are allied with former OC School Board Trustee Robert Hammond, who lost his seat in this year's June Primary Election, to Becky Gomez, a Tustin City Council Member.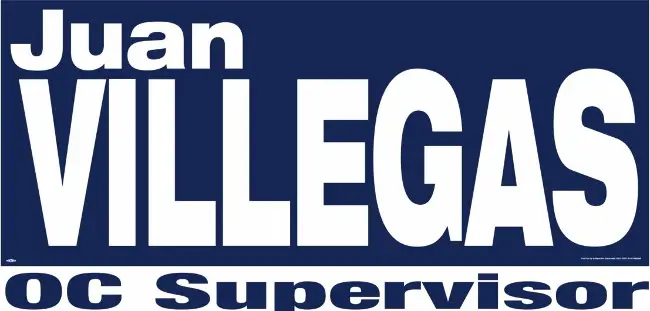 Cano's goals include:
Increase Math and English proficiency, enrich curriculum in Science, Technology, Engineering and the Arts for college bound students, and those who need vocational skills to enter the job market.
Make the administrative and Budget processes efficient and transparent.
Support our teachers, empower our parents, create better and safer schools.
Cano and Iglesias are the only Republicans running in a crowded field of SAUSD School Board candidates who are mostly Democrats.
Cano ran for the SAUSD School Board two years ago, in 2014, and got almost five thousand votes, according to Smart Voter. Rigo Rodriguez also ran in 2014, and is running again. In 2014 he edged out Cano by only 500 votes, although he ran a big campaign and spent considerably more than she did.