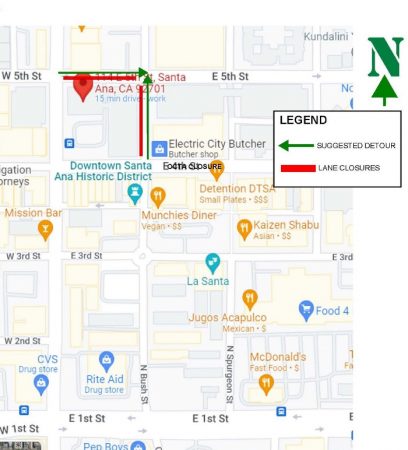 There will be a lane closure on 5th Street between Main and Bush streets, and the southbound lanes will be closed on Bush Street between 4th and 5th streets starting Monday, October 24, at 4:30 a.m. in order to accommodate construction work in the area. The closures will be in place 24 hours a day until 5.p.m. on Friday, November 4, 2022.
Access to businesses will be maintained at all times. Please follow detour signage.
We recommend using alternate routes or plan for possible delays since the lane closures on 5th and Bush Street will impact traffic flow. We apologize for any inconvenience and thank you for understanding.
Cierre de carril en la calle 5th entre las calles Main y Bush
Habrá un cierre de carriles en la calle 5th entre las calles Main y Bush, y los carriles hacia el sur cerrarán en Bush Street entre las calles 4th y 5th a partir del lunes 24 de octubre a las 4:30 de la mañana para acomodar las obras de construcción en el área. Los cierres estarán vigentes las 24 horas del día hasta las 5 de la tarde el viernes 4 de noviembre de 2022.
El acceso a los negocios se mantendrá en todo momento. Siga la señalización de desvío.
Recomendamos usar rutas alternativas o planificar posibles demoras ya que los cierres de carriles en 5th Street y Bush Street afectarán el flujo de tráfico. Pedimos disculpas por la molestia y le agradecemos por su comprensión.