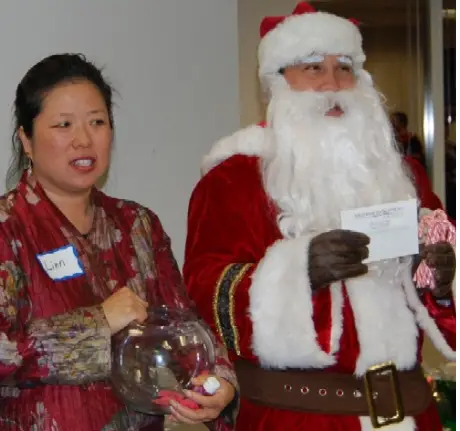 For Immediate Release: December 7, 2010
For More Information Contact: Nadia Villafana – Office: (714) 939–8469
Public Invited to Assemblyman Solorio's 4th Annual Holiday Open House
Come Meet Assemblyman Solorio and His Staff, Contend for Raffle Prizes
SANTA ANA – On Thursday, December 9, State Assemblyman Jose Solorio (D–Anaheim) is welcoming residents and community leaders to his annual holiday open house. Those who stop by to celebrate with the Assemblyman this year are encouraged to bring nonperishable food for local charities. Those that do will be eliglible for raffle prizes. Refreshments and appetizers will be provided, and holiday spirit will be plentiful.
"This is an opportunity to enjoy some holiday cheer and to discuss issues on the minds of my constituents," says Assemblyman Solorio. "I'm looking forward to mingling with my constituents and hearing their ideas."
At last year's holiday party, Santa and Linn Lee (Mrs. Solorio) drew the winners of the raffle drawing.
This year, Assemblyman Solorio's annual event will take place at his Assembly District Office, 2400 E. Katella Ave., Suite 640, in Anaheim (just west of the Katella exit off the 57 freeway). The open house begins at 5:00 p.m. and ends at 7:00 p.m.
State Assemblyman Jose Solorio is the Chair of the Assembly Insurance Committee and serves on the Assembly Appropriations, Local Government and Transportation committees. He represents the Sixty–Ninth Assembly District, which includes the cities of Anaheim, Garden Grove, and Santa Ana. For more information about Assemblyman Solorio, visit www.assembly.ca.gov/solorio.
________________________________________
Capitol Office: State Capitol, P.O. Box 942849 • Sacramento, CA 94249–0069
Phone: (916) 319–2069 • Fax:(916) 319–2169
District Office: 2400 East Katella Avenue, Suite 640 • Anaheim, CA 92806
Phone: (714) 939–8469 • Fax:(714) 939–8986
E-Mail:Assemblymember.Solorio@assembly.ca.gov
Web Site:www.assembly.ca.gov/solorio