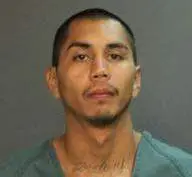 Santa Ana Police Department Advisory: UPDATE: Santa Ana Homicide Information September 10, 2013
Detectives have placed Jose Miguel Avalos, 27 of Santa Ana, in custody for homicide. Avalos was booked into Santa Ana Police Department Jail. Autopsy scheduled for tomorrow 9-12-13. Once all aspects of the investigation are complete Detectives will be submitting the case to the Orange County District Attorney's Office for filing.
On Tuesday, September 10, 2013, at approximately 2145 hours, officers responded to the 1000 Blk. of Walnut regarding a male adult who was found on the sidewalk apparently in need of medical assistance. Upon arrival officers found a 24-year-old male who appeared to have visible injuries to his upper torso. The Orange County Fire Authority and Paramedics responded to the scene and pronounced the victim deceased.
The decedent was later identified as Gustavo Avalos Salazar (24) Santa Ana. It appears that earlier in the evening, Salazar may have been involved in a physical altercation in the area of Edinger and Flower with a person who has yet to be identified. Afterwards, Salazar was driven to the 1000 Blk. of Walnut where he was found by patrol officers.
The Santa Ana Police Department is asking that anyone with information regarding this incident call SAPD detectives at (714) 245-8390. Or Orange County Crime Stoppers at  1-855-TIP-OCCS.
###