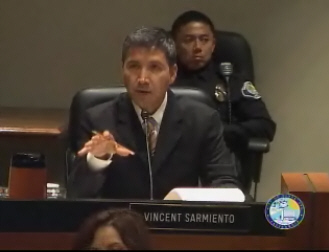 I received a call this week from a man who lives in Santa Ana, who said he has known Council Member Vince Sarmiento for many years. The man said his girlfriend used to work at Sarmiento's nightclub, Festival Hall. And the fellow had quite a tale to tell.
Sarmiento would like us to believe that he is a family man who walks on water, but according to my insider that is a complete falsehood.

Sarmiento is a lawyer by trade but he does not appear to practice law very much. Instead his family appears to make a living via a network of nightclubs including Festival Hall, also known as El Festival, and El Carnaval. However the Sarmiento family has taken steps to insulate themselves since Sarmiento came to power back when he was appointed to the Santa Ana City Council, in January of 2007, according to his official bio.
Sarmiento's California Bar Record says his full name is Vincent Flavio Sarmiento. It refers to a website, vfslaw.com which is not functional. Now tell me if this guy really has a law practice how in the world does the law practice operate with a non-functional website?
Vince's bio says that he and his wife, Eva Casas-Sarmiento, run a law practice together. But her California bar record says she works for Disability Rights California. Except she is not listed in their staff directory. And the Bar Association says her email is eva.casas@yahoo.com. Vincent's email address is listed as vincent@vfslaw.com. If they run a law practice together shouldn't they have similar work emails?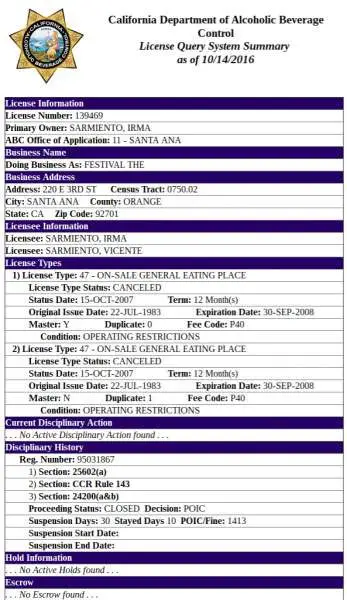 According to the fellow who called me all of this is a shell game. The California ABC Liquor License record shows that Vince's mom, Irma, canceled the Festival Hall's liquor license on Sep. 30, 2008. According to the Orange County Clerk-Recorder the owner of the Festival Hall is now someone named Juana Sanchez Bolanos, as of June 6, 2008. But don't try looking up the Festival Hall's liquor license under her name. I tried. It does not appear to exist. In fact I could not even find a license under the name of the Festival Hall.
My tipster says that in reality the Sarmiento family still runs Festival Hall. They use Sanchez Bolanos as a proxy. It appears that after Vince got elected his family decided to do all of this in order to separate him from what is a very shady business.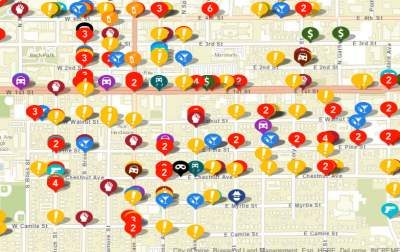 According to Crimemapping.com, there is a lot of crime taking place around Festival Hall. But don't take my word for it. Here is what a Yelper has to say about Festival Hall:
However, the patrons of this establishment are of the lowest class. Upon exiting this club from Thursday to Sunday night, guests of the Festival Hall are the worst sort of people an establishment could serve.

These guests are outrageously drunk. They do burnouts in their vehicles up and down 3rd Street, Bush Street & Spurgeon Street. They smash glass bottles and throw trash in the adjacent parking lots. drive at high speed down the same streets. They are a danger to themselves and the community at large.

On many occasions, the party doesn't stop at 2 a.m.. The club patrons go out to their cars and crank up their stereos and dance in the parking lot until residents come down and force them to leave or call the Police/Loft Security Patrol. The ones that aren't dancing are hollering and yipping at the moon like crazed cowboys on a bender.

Santa Ana is at a crossroads. The neighborhood is changing demographically. The city itself is facing default. This club provides a steady stream of fresh DUI's for the Santa Ana Police Department. Yet, they are only seen on the rarest of occasions in the vicinity of the Festival Hall. Perhaps this is related to the ownership of the club; a longstanding City Councilman.
We reported in January that a 16-year old girl went missing after hanging out at Festival Hall. Our tipster says that it is common for minors to be allowed to enter Festival Hall – if they are girls.
Festival Hall also has a long history of health violations that include:
Lack of/Unsanitary/Condition Walls/Floors/Ceilings
Unsanitary Equipment/Utensil/Linen/Plumbing
Evidence of Vermin Activity/Presence of Animals/Insects
Signs/Labels/Menu Board/Trans Fat-Missing/Incorrect/Lack of Food Handler Card
Uncleanliness of Premises/Trash Storage
Inappropriate Sanitizer Level/ Lack of Test Strips
Lack of/Improper Handwashing/Handwashing Sup.
Uncleanliness of Premises/Trash Storage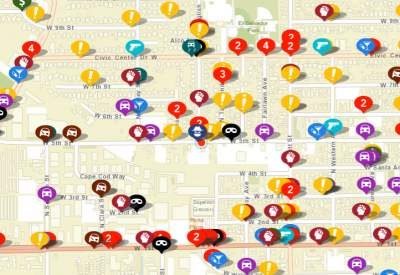 Things are not much better at another Sarmiento family establishment, El Carnaval. They too are a hotbed of crime according to Crimemapping.com.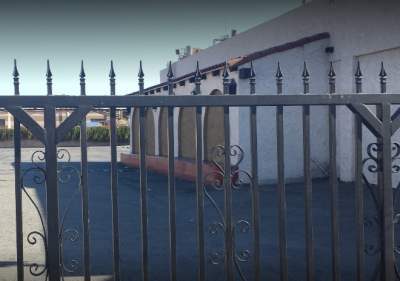 Our tipster also had some serious complaints about Festival Hall. He said his girlfriend would be happy to testify that the employees are paid in cash and that the establishment often fires female servers who get pregnant. Those are labor code violations of course. Paying folks in cash is done when an establishment does not have workers' compensation insurance in place. And it is illegal to fire pregnant women. These are of course allegations but according to my tipster he has not been able to get any authorities to investigate what is going on at these businesses. He says that they always tell him the same thing – those businesses belong to Vince Sarmiento and his family.
If you have been watching Marvel's Luke Cage television show on Netflix then all of this sounds very familiar. Shady nightclubs. Shady politicians. No bueno!
Is it possible that Vince really does have a law practice? Well the practice has a Facebook page. And of course it is devoid of any information. It is as empty as his suit.
This year voters have an alternative. Instead of voting for Sarmiento they can vote for family lawyer Jessica Cha. She has our endorsement. And she actually is a lawyer!