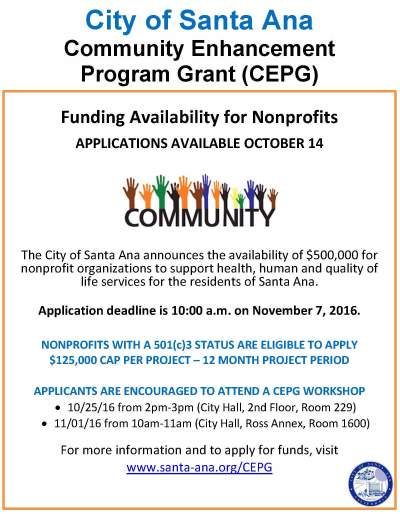 City of Santa Ana, Downtown Orange County
Community: Santa Ana to Start Application Process for the Community Enhancement Program Grant- $500K Available for Nonprofits
The City of Santa Ana announces the availability of $500,000 in Community Enhancement Program Grant (CEPG) funding for nonprofit organizations to support health, human and quality of life services for the residents of Santa Ana through public services including, but not limited to, arts & culture, employment, child care, health, education, energy conservation, or recreational needs.
The City is making great strides in meeting its Strategic Plan Goals, and is calling on nonprofits to assist with the City's efforts. Proposed CEPG programs must align with a Strategic Plan Goal to be considered for funding. CEPG eligible goals include 1) Community Safety, 2) Youth, Education, Recreation and 3) Community Health, Livability, Engagement & Sustainability. Detailed information on the Strategic Plan Goals is available in the application.
-Nonprofits with a 501(c)3 status are eligible to apply
-$125,000 cap per project
-12 month project period
APPLICATIONS TO REQUEST FUNDING ARE AVAILABLE AT WWW.SANTA-ANA.ORG/CEPG
APPLICATIONS ARE DUE MONDAY, NOVEMBER 7, 2016 AT 10 AM
APPLICANTS ARE ENCOURAGED TO ATTEND A CEPG WORKSHOP
Workshops will be held at City Hall on the following dates:
-10/25/16 from 2pm-3pm (2nd Floor, Room 269)
-11/01/16 from 10am-11am (Ross Annex, Room 1600)
For more information, please visit www.santa-ana.org/CEPG or call the Community Development Agency at 714-647-5360.