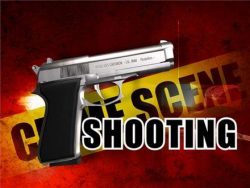 At about 11:30 PM on Friday October 14th an adult male suspect exited his vehicle and shot at an occupied parked vehicle multiple times, at at 200 N. Lacy, in Santa Ana.
The vehicle was struck multiple times and the female and male passengers were not struck, according to SAPD Case Number 16-27216.

There was also a shooting in Santa Ana's Delhi neighborhood yesterday at around 3 pm. Witnesses saw a high school kid shot in the abdomen, laying by a scooter off the corner of Orange and Adams.
The SAPD reports that the incident happened at 2500 S. Orange Street, in Santa Ana. Police said that the incident involved a 17 year-old male who was shot multiple times in the upper torso. At the time of the initial investigation he was uncooperative and he was transported to a local hospital for treatment. The suspect was described as a 20 year-old Hispanic and witnesses gave conflicting statements on descriptions and direction of travel.
The shooting on N. Lacy St. occurred in Santa Ana's Ward 2, which is represented by Council Member Michele Martinez. The shooting in the Delhi neighborhood occurred in Ward 1, which is represented by Mayor Pro Tem Vince Sarmiento.