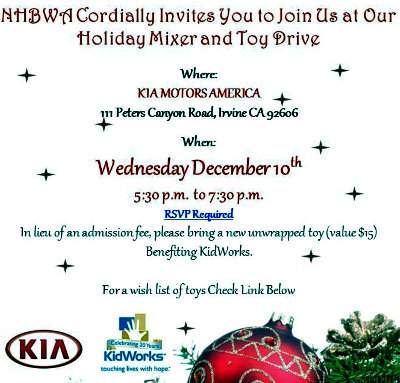 Kia Motors America is hosting a 2014 Holiday Mixer and Toy Drive on Wednesday December 10, 2014 from 5:30 PM to 7:30 PM.
In lieu of an admission fee, please bring 1 unwrapped toy (value $15) benefiting KidWorks (Santa Ana).
Kia Motors America is located at 111 Peters Canyon Road, in Irvine.
About KidWorks:
Mission
To restore at-risk neighborhoods…one life at a time.
Vision
To transform challenged neighborhoods in central Santa Ana by building on the strengths and potential in the community through education, character formation, and personal development.
Values
1. Faith: Demonstrating God's love and Christ-like values in all we do
2. Empowerment: A commitment to quality education and developing local leaders
3. Respect: Creating an atmosphere that affirms the dignity of every individual
Core Operating Principles
1. Performance: We are committed to excellence and accountability in order achieve measurable results that demonstrate our positive impact in the neighborhoods we serve.
2. Strategic Partnerships: We maximize our results by joining with key individuals, volunteers, churches, businesses, foundations and agencies in order to best serve the community