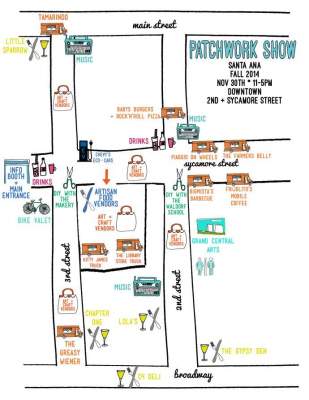 The Patchwork Show will be taking place once more in Santa Ana this Sunday, Nov. 30, 2014, from 11 am to 5 pm, in Downtown Santa Ana.  Over the years, Patchwork has grown from a small parking lot craft fair into multiple locations including street festivals and large indoor marketplaces.  All Patchwork Show events are FREE to the public.
The Patchwork Show features 160+ local vendors selling diverse handmade goods (see our gallery for a closer look), curated food trucks, DIY stations to get your craft on,food artisan area, live music and rotating services like photo booths, bike valet and gift-wrapping depending on the location and season.
Vendors are selected through a jury process and feature clothing for men, women & kids, handbags, accessories, jewelry, art, ceramics, garden finds, home goods, plushies, crochet & knit items, pet gear, kits & patterns, bath & body goodies and more!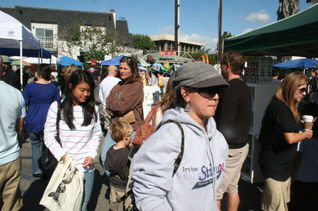 Where it all started… the Patchwork Show started in Santa Ana over seven years ago. In 2012, they moved their event to downtown in the heart of the Artists Village next to their friends The Gypsy Den, Lola's, Little Sparrow, Grand Central Arts Center and El Centro Cultural de Mexico. This urban and historical setting encompasses three different streets and incorporates local galleries, museums and a handful of restaurants and bars.
Dear Handmade Life founders, Delilah Snell and Nicole Stevenson have a passion for empowering creatives with education and a forum to help people make a living doing what they love.
For nearly a decade, the aunt-and-niece team has been producing Patchwork Show: Modern Makers Festival, a biannual multi-city fair showcasing local emerging artists, crafters and designers alongside artisan food, DIY craft workshops, gourmet food trucks and indie music. In 2012 they founded Craftcation: Business + Makers Conference, featuring industry professionals leading attendees in hands-on food & craft workshops and lectures and panels on creative business. Delilah and Nicole also share DIY craft projects, tips on creative entrepreneurship, recipes, their adventures and inspiration to make every day awesome on their blog.