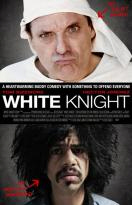 MEDIA ADVISORY
FOR IMMEDIATE RELEASE: September 15, 2011
CONTACT: Sandra Pena Sarmiento,  Ph: 714-417-0073
NACHO LIBRE STAR WILL BE IN SANTA ANA, SUNDAY 9/18 FOR OC FILM FIESTA CLOSING NIGHT SCREENING OF NEW COMEDY
WHO:
Hector Jimenez, Star and Executive Producer of White Knight. Best known for his role as Esqueleto in the film Nacho Libre.
Kevin Farley, White Knight Co-Star. Star of An American Carol, MTV's 2gether.
Olga Segura, Star and Executive Producer of White Knight.
Jesse Baget, Writer and Director of the feature film White Knight.
WHAT: The 2nd Annual OC Film Fiesta Closing Night Screening of White Knight
Interview Opportunities Available
WHEN: Sunday, Sept. 18 from 6pm – 10:30pm
WHERE: Historic Yost Theatre, at 307 N. Spurgeon, Santa Ana
WHY: The 2nd OC Film Fiesta concludes three weeks of free films celebrating Orange County's cultural diversity and Latino heritage with a special 8:45 pm red carpet screening at the Yost Theatre of Jesse Baget's new comedy White Knight, which stars Tom Sizemore (Saving Private Ryan) as a Klan leader sentenced to prison who learns some lessons about tolerance from his Mexican labor organizer cellmate Emilio (played by Hector Jimenez). The film is Grand Jury Award Nominee – Best Feature Narrative, 2011 Guam International Film Festival.
Email info@ocfilmfiesta.org or call 714-417-0073 to schedule an interview.
WHITE KNIGHT
Actor Bios
HECTOR JIMENEZ BIO
Born in Guadalajara, Héctor Jiménez studied acting in Tijuana. He began working in theatre, including with Edward Coward's La Divina Fauna Theatre Company.
Known to audiences for his role fighting alongside Jack Black in Jared Hess' Nacho Libre, for which the duo received an MTV Movie Award nomination, he has appeared in several other films. Among them are Luis Mandoki's Innocent Voices; Ignacio Ortiz' Mezcal, which won 5 Ariel Awards (Mexico's equivalent of the Oscars); Jason Friedberg and Aaron Seltzer's Epic Movie; Robert Englund's Killer Pad; and, most recently, Fernando Rovzar's Navidad, S.A.
Mr. Jiménez has just completed a reteaming with Jared Hess on the new film Gentlemen Broncos, with Michael Angarano and Jermaine Clement.
KEVIN FARLEY BIO
Kevin Farley (accomplished actor, writer, director) has truly established himself as a comedic presence both on the big screen and television. Kevin P. Farley grew up in Madison, Wisconsin, as the fourth child of five children and he attended Marquette University where he earned a business degree. Farley then went to work for his father's business, but eventually moved to Chicago and studied at the famed Second City.
The minute he relocated to Los Angeles he began landing roles in films such as Tommy Boy and Black Sheep. Then Farley landed a starring role as "Doug Linus" on MTV's sitcom 2gether where he was met with rave reviews.
After that Farley appeared in numerous TV series programs such as That '70s Show, 3rd Rock from the Sun, Joey, Just Shoot Me, Curb Your Enthusiasm and many more.
When Farley moved more into feature films, his unsurprising emphasis was exclusively on comedy. He appeared in the Adam Sandler animated comedy Eight Crazy Nights, and soon after The Waterboy, Dirty Work, the Cedric the Entertainer laugh-fest Johnson Family Vacation to name a few. Farley recently starred in the lead role of An American Carol playing a cynical, Anti-American "Hollywood" filmmaker who sets out on a crusade to abolish the 4th of July holiday. He is visited by three spirits who take him on a hilarious journey in an attempt to show him the true meaning of America. This comedy film, (directed by David Zucker) is a parody of liberal filmmaker Michael Moore that "lampoons contemporary American culture, particularly Hollywood." It uses the framework of A Christmas Carol but moves the setting of the story from Christmas to Independence Day. The supporting cast included Kelsey Grammer, Jon Voight, Dennis Hopper, and Leslie Nielsen.
Soon to be released this fall is the feature film Hollywood and Wine, which Farley co-wrote, directed and stars in. The film also stars Chazz Palminteri, Chris Kattan, David Spade, Norm MacDonald and Jeremy London. Next up is Farley's latest written project Back in the Saddle – a western comedy set in Wyoming.
OLGA SEGURA BIO
Upcoming actress, producer and entrepreneur Olga Segura is a fresh, talented face ready to take over the world with her unique classic looks and her uncontested talent. Olga was born in Saltillo, Mexico, in 1983 and since then has demonstrated a ravishing appetite for learning and a knack for handling both in-and-out camera responsibilities.
Olga started her career in the prestigious "Casa azul" school of acting in Mexico city, specializing in Meissner Technique. Shortly thereafter she moves to LA, where she continues her education at The Acting Corps and The Stella Adler Studio. She starred in the play "Pizza Man" in Mexico (which she also produced), Written by Daniele Craviotto and Directed by Eduardo Arroyuelo. Immediately after, she was seen in "When will I dance", by Claire Braz Valentine and directed by Celia Cotelo.
Olga did the film version of "When Will I dance" and the film "La Cubana", directed by Pavel Giroud in 2009. She's ready to take over the American market with the film "White Knight"
Director's Bio
Writer-director Jesse Baget grew up in Tucson, Arizona. His work offers a unique vision of dark humor mixed with a good dose of quick-witted dialogue.
His first feature length film, Wrestlemaniac, described by Dreadcentral as "The stuff cult classics are made of" and hailed by Fangoria Magazine as "A low-budget work of genre genius," was showcased at the AFI Film Festival, the Hollywood Film Festival among others, and was released in 2008 by Anchor Bay Entertainment.
In early 2010, Baget wrote and directed the feature length dark comedy, White Knight, starring Tom Sizemore, Stacy Keach, Hector Jimenez and Kevin Farley. In the film, Leroy Lowe (Tom Sizemore), grand dragon of the Texas Ku Klux Klan confronts everything he's been taught to hate when he's sentenced to prison and forced to share a cell with Emilio (Hector Jimenez), a Hispanic field worker.
Currently, Baget is in pre-production on the southern thriller "Breathless" starring Val Kilmer and Ray Liotta. He also wrote and is attached to direct "Mississippi Wild," a tale of stolen diamonds and passion stirred under the Southern sun with Dakota Fanning, Mickey Rourke, Robert Duvall and Forest Whitaker set to star.
ABOUT THE OC FILM FIESTA
Launched in 2010, the OC Film Fiesta provides an important cultural celebration for the families and residents of Santa Ana as well as patrons from around the county. Working with community organizations and local businesses, the OC Film Fiesta celebrates Santa Ana's vibrant Latino heritage through free screenings at historically significant venues in the heart of downtown Santa Ana.
The OC Film Fiesta in Santa Ana is presented by the City of Santa Ana. Sponsors include: MXLive, The Yost, OC Weekly, NBCUniversal, Telemundo, the Santa Ana Historical Preservation Society, Original Mike's, Calacas, Robert Escalante's Custom Auto Service, VAALA, Stay Connected, Mexican Consulate in Santa Ana, OCGente.com, Top Finish, Los Amigos of Orange County, Centro Cultural de Mexico, Espacio Alternativo, Memphis Café and AztecGoldTV.com. Produced by Pocharte.
For more information about the OC Film Fiesta, a complete schedule and downloadable venue map, visit www.ocfilmfiesta.org. or email info@ocfilmfiesta.org.