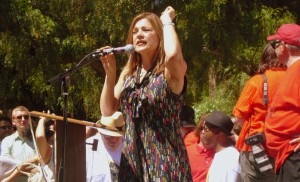 Loretta Sanchez, with OCEA head Nick Berardino – the guy who created the OC public employee pension crisis
Congresswoman Loretta Sanchez, Representing California's 47th Congressional District
PRESS RELEASE, FOR IMMEDIATE RELEASE: September 15, 2011
MEDIA CONTACT: Adrienne Watson 202-309-0825
REP. SANCHEZ INTRODUCES BIPARTISAN LEGISLATION TO ALLOW REVISIONS TO ORANGE COUNTY PENSION STRUCTURE
SANCHEZ DEVELOPED AND LED PUSH FOR INNOVATIVE SOLUTION TO PENSION PROBLEM
WASHINGTON, D.C. – Congresswoman Loretta Sanchez (CA-47), a member of the bipartisan Joint Economic Committee, today introduced legislation to allow for the implementation of an employee pension plan that will address the rising costs of government pensions in Orange County, a growing problem that many local governments are facing across the country.
Orange County has developed a smart solution to the pension problem, a hybrid plan which Rep. Sanchez supports and is strongly urging Treasury Secretary Timothy Geithner to expedite its review by the Internal Revenue Service. The new plan provides a lower defined benefit which the County would offer in conjunction with participation in a defined contribution plan with an employer matching element.
"The pension problem is a national crisis that we must solve," said Sanchez. "The pension system needs to be stabilized and the solution must be sustainable. I believe the pension plan proposed by Orange County will provide our county and state governments with better financial stability and will be a model nationally."
The hybrid plan was proposed by the County of Orange and the Orange County Employees Associations (OCEA) as a novel and viable solution to the pension problems plaguing California's finances. It has been endorsed by Democrats and Republicans alike, including former Gov. Arnold Schwarzenegger, but has stalled at implementation because of questions regarding the tax implications thousands of employees would face after these changes.
County and union representatives have met with IRS and Department of Treasury staff for the past two years regarding this issue but Treasury staff has been unable to provide even a time frame for issuing guidance on this impediment. As Treasury cannot agree to issue guidance, a legislative solution is necessary.
The legislation developed and led by Rep. Sanchez has garnered bipartisan support from Rep. John Campbell, and would revise IRS Ruling 2006-43 with an amendment clarifying authority for public agencies so these local governments can propose and implement this innovative and viable solution to the pension problem.
Congresswoman Loretta Sanchez is proud to represent California's 47th Congressional District, which includes the cities of Anaheim, Garden Grove, Santa Ana, and parts of Fullerton in Orange County. She serves as Ranking Member of the House Armed Services Subcommittee on Strategic Forces and a senior member of the Committee on Homeland Security. Rep. Sanchez is also a member of the fiscally conservative Blue Dog Coalition and sits on the bipartisan, bicameral Joint Economic Committee.
# # #
United States House of Representatives
1114 Longworth House Office Building • Washington, DC 20515
Phone: 202-225-2965 • Fax: 202-225-5859