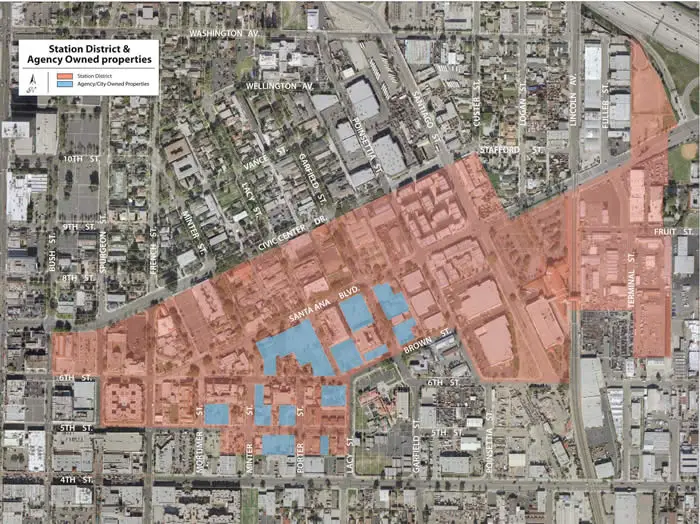 City of Santa Ana, Downtown Orange County
Friday January 6, 2012, 4:03 PM
Advisory: PRESS CONFERENCE ADVISORY Santa Ana Redevelopment Agency and Related California Break Ground on Station District
SANTA ANA, CA (January 6, 2012) – On Tuesday, January 10, 2012 at 3:00 pm at the project site at 600 N. Lacy Street in Santa Ana (Corner of Lacy Street and Santa Ana Blvd), a groundbreaking ceremony will be attended by City Officials, community members, and other partners . The City of Santa Ana Redevelopment Agency and Related California, a real estate developer specializing in affordable and market rate multifamily and mixed-use residential properties in California, have started construction on 74 units of apartment homes for low-income families in the Lacy Neighborhood of the Santa Ana Station District.
This groundbreaking begins the first of three phases of new residential development which are anticipated to include a mix of affordable rental and for sale apartments and townhomes totaling 138 units (99 new construction apartment units, an anticipated 24 new construction homeownership units and 15 rental units that will be rehabilitated from existing vacant residences). The Station District Apartment homes project is one of the first major new developments to commence construction under the City's Transit Zoning Code adopted in June 2010 to promote transit oriented development in the area surrounding the Santa Ana Regional Transportation Center (SARTC).
Immediately following the press conference, there will be plenty of interview opportunities and artist renderings of the project, along with opportunities to capture ongoing construction at the site.
###
For full details, view this message on the web.
Sent by City of Santa Ana, 20 Civic Center Plaza, 8th Floor/ P.O. Box 1988, Santa Ana, CA 92702
To manage your email settings, click here. To update your account settings, login here.