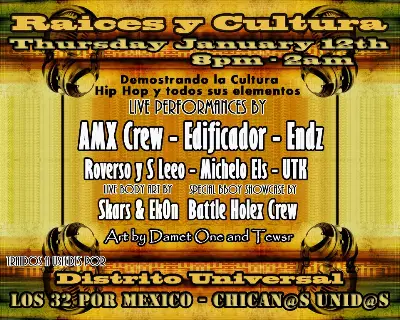 The AMX Crew will be rocking the house @ Raices y Cultura, featuring Arthur Capone; Iemsk Kelevra; Armando Negrete; FirstGeneration SantaAna; and the rest of the AMX Crew, on Thursday, January 12th at Mexicanisimo, located at 2323 W. First Street, in Santa Ana.
This will be a night to demonstrate Hip Hop's cultural aspects.  Featuring live acts AMX Crew, Endz, Edifica, Roverso and S Leeo, Michelo Els, and UTK.  And a special performance by Brake Dance with Battle Holex Crew, art by UTK and Zulu Kings. 8pm-2am, 21+ $5 cover charge.
Organized by FirstGeneration SantaAna (Efrain Rodriguez) and Eduardo Iniestra.