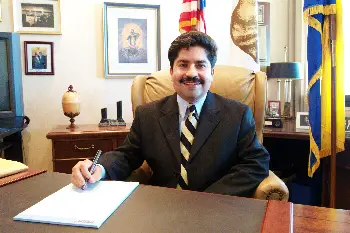 Assemblyman Solorio Wants Homeowners to Know Mortgage Assistance Programs are Still Available and
Have Expanded Eligibility
Recent updates to the $2 billion program expected to help more families remain in their homes
ANAHEIM – State Assemblyman Jose Solorio (D-Anaheim) wants constituents to be aware that the "Keep Your Home California" program has expanded eligibility for homeowners struggling to remain in their homes.
"More people can avoid losing their homes with this additional assistance," says Solorio. "Help is available for families receiving unemployment benefits, saddled with mortgages with high interest rates, or owing more on their mortgage than their home is worth."
Keep Your Home California is a $2 billion effort established under the U.S. Treasury's Hardest Hit Fund to offer mortgage assistance to low and moderate income homeowners who are delinquent or facing imminent default on their mortgage. For homeowners residing in Orange County, the Keep Your Home California income limit is $101,050.
For unemployed homeowners, the length of time for mortgage assistance has been extended and the amount of money available has been increased. The new guidelines also allow homeowners who own additional properties to apply, which will help address situations where homeowners were co-signers on a home for a relative.
"I'm encouraging homeowners previously declared ineligible to contact Keep Your Home California again to see if they qualify under expanded new guidelines," Solorio said. "In a difficult economy, every avenue must be explored to stay afloat until the economy recovers. Keep Your Home California may be a bridge to better times for those that need it."
There are four programs developed to address different aspects of the current housing crisis and help homeowners facing financial hardships that make up the Keep Your Home California program. Nearly 8,000 homeowners have already benefited or are in process to receive funds from the state-run program, initially implemented in February 2011.
In order for homeowners to qualify for any of the four Keep Your Home California programs, their mortgage servicers must be participating. Almost 50 mortgage servicers now participate in the program, covering more than 85 percent of the mortgages in California. For a list of servicers and the programs they participate in, visit www.keepyourhomecalifornia.org . Homeowners seeking information about the program are encouraged to call (888) 954-KEEP (5337) between 7 a.m. and 7 p.m. weekdays and 9 a.m. to 3 p.m. Saturdays, or visit http://www.KeepYourHomeCalifornia.org (a Spanish-language site is also available at www.conservatucasacalifornia.org).
State Assemblyman Jose Solorio is the Chair of the Assembly Insurance Committee and also serves on the Assembly Appropriations and Transportation committees. He represents the Sixty-Ninth Assembly District, which includes the cities of Anaheim, Garden Grove, and Santa Ana. For more information about Assemblyman Solorio, visit www.assembly.ca.gov/solorio.