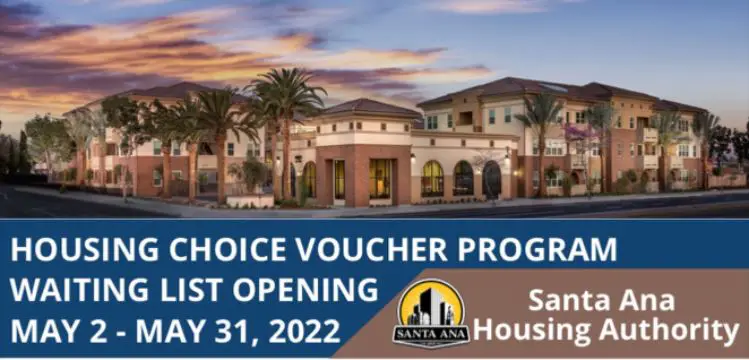 The Santa Ana Housing Authority provides rental assistance through the Housing Choice Voucher Program. Beginning May 2nd through May 31st the waiting list for the Housing choice voucher program will open. Applications will only be accepted online at www.santa-ana.org/housing.
The Housing Choice Voucher Program is the federal government's largest program for assisting very low-income families, the elderly, and the disabled to afford healthy and safe housing in the private market.
With a housing voucher, participants are able to choose their own housing, including single-family homes, town homes and apartments. Housing assistance is then provided on behalf of the family or individual to the landlord.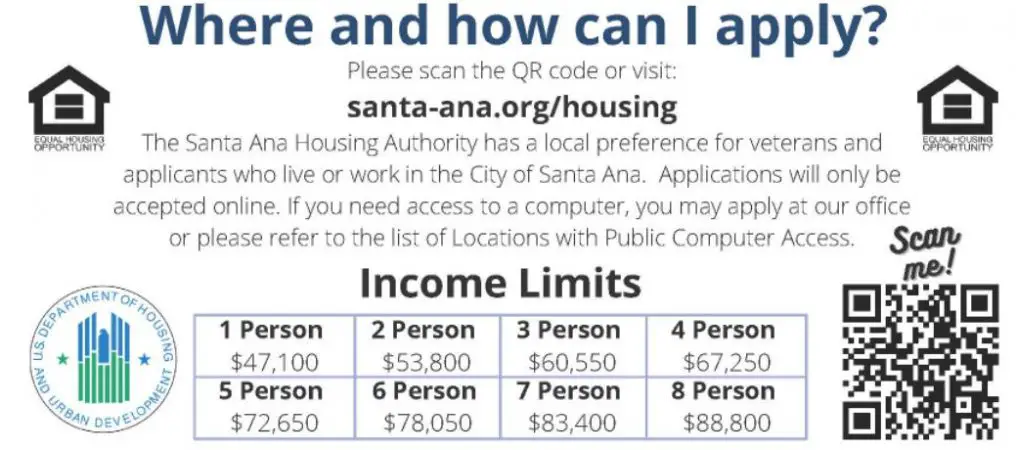 The participant is free to choose any housing that meets the requirements of the program and is not limited to units located in subsidized housing projects. A family that is issued a housing voucher is responsible for finding a suitable housing unit of the family's choice where the owner agrees to rent under the program. This unit may include the family's current residence. Rental units must meet minimum standards of health and safety, as determined by HUD and the Santa Ana Housing Authority.
Once a suitable housing unit is found and the family is determined eligible for that unit, a housing subsidy is paid to the landlord directly by the Santa Ana Housing Authority on behalf of the participating family. The family then pays the difference between the contract rent charged by the landlord and the amount subsidized by the program.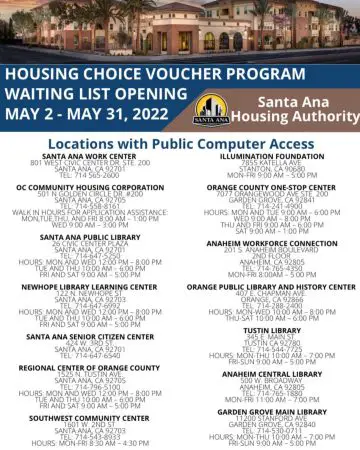 The Santa Ana Housing Authority Waiting List is currently open only for U.S. Military Veterans who live or work in the City of Santa Ana. A DD-214 Form is required. If you are a U.S. Military Veteran who lives or works in Santa Ana, please go to our On-line Application to Submit an Application.
You may apply if you are very low-income, 18 years of age or an emancipated youth by the court. Income limits for the Housing Choice Voucher Program are as follows: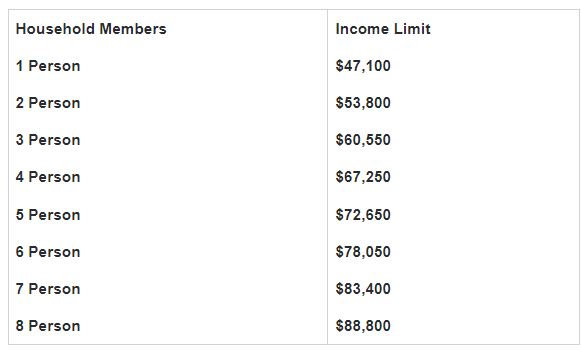 If you want to check on the status or view your application, please go to: www.assistancecheck.com.
The 2022 Housing Choice Voucher Program (HCV) Waiting List will be created through a random lottery process, regardless of the date and time you submit your application. Only 7,500 applications will be accepted onto the 2022 HCV Waiting List following this lottery process. Duplicate applications will be rejected. The Santa Ana Housing Authority has established a local preference for veterans and applicants who live or work in the City of Santa Ana.
 
If you are a person with a disability and require a reasonable accommodation to participate in the application process, please contact the Santa Ana Housing Authority prior to May 31, 2022, by calling (714) 667-2229 during our regular business hours: Monday through Thursday, 7:30 a.m. to 5:30 p.m., Friday 8 a.m. to 5 p.m., and closed every other Friday.