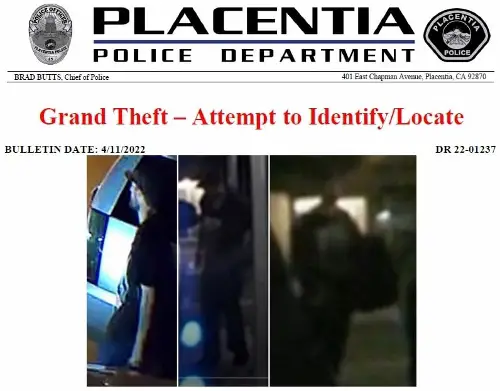 Between Thursday, April 8, 2022, at 4:06 a.m., suspects entered two unlocked vehicles parked in front of residences at the Placentia Meadows Apartments, located on the 100 block of W Orangethorpe Ave., and took a purse and power tools.
One victim later reported a fraudulent purchase was made using one of their credit cards. Another victim reported that their car keys and rent money were stolen. Also the tool box stolen from one of the vehicles is badly needed by its owner who uses those tools at work.

SUSPECT: Male, White, approximately 20-30 years old, thin build, dark hair, beard, wearing a dark-colored baseball hat, black t-shirt with a white graphic on the front, and dark-colored pants.
If you have any information that might assist this investigation, please contact the Placentia Police Department at (714) 993-8164.