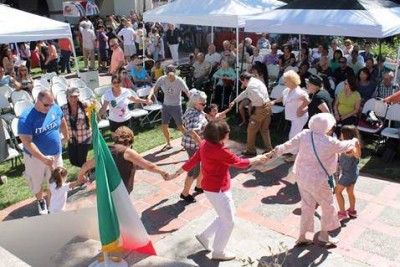 The Bowers Museum is hosting a "Celebrate Italy Festival: on Sunday, October 4, 2015, 11 a.m.-4 p.m.  This is a free Community Event sponsored by The Nicholas Endowment and presented by the Bowers Italian Cultural Arts Council.
NORMA KERSHAW AUDITORIUM
1:00 pm Franklin Haynes presents Marionette Magic – A showcase of Haynes' most popular puppets including Pinocchio.
MARGARET AND CLEO KEY COURTYARD
11 am – 3:30 pm

Face painting, and Venetian Carnavale Mask art projects
Food sampling of Italian Gelato (as supplies last)

12:00 pm The Sicilian Band, featuring Tony Ciaramitaro, plays romantic ballads of Italy. Join in on the fun and dance to the music!
1 – 1:30 INTERMISSION
1:30pm The Sicilian Band
2:15 pm The Bel Canto Singers of the Orange County School of the Arts, Katie Minerman, Aleesha Yan, Daniel Sanchez, Nathan Vasquez, Pianist: Lukas Swidzinski, Director: Maria Lazarova, DMA
2:45pm The Sicilian Band
The KIDSEUM is Open and FREE on Sunday, October 4, 2015 from 10 a.m. – 4 p.m.
The Bowers Kidseum is located 2 blocks south of the Bowers Museum at 1802 North Main Street
Interactive & High-tech exhibits featuring Art & Archaeology
Face Painting
Create art projects
Join Master Storyteller, Miss Cynthia, for presentations:
10:30 A Ray of Moonlight
11:30 The Dragon's Pearl
12:30 Edward and the Dragon
1:30 Kraton's Labyrinth
2:30 The Precious Sword
3:30 A Special Doll
WITH PAID MUSEUM ADMISSION:
View our special exhibitions including Modern Twist; ADAMS, CURTIS & WESTON: Photographers of the American West; WHERE ENDS MEET: A Retrospective of Works by Nancy Ravenhall Johnson as well as our permanent exhibitions.
The Bowers Museum and Kidseum offer free admission to Santa Ana residents every Sunday, with proof of residence, through a generous donation in memory of Dorothy Goerl and courtesy of the Lockhart Family.
The Bowers Museum is located at 2002 N. Main St., in Santa Ana.