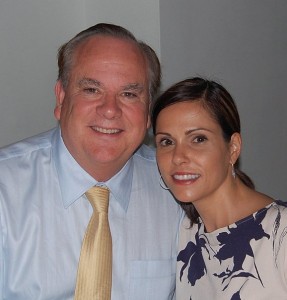 Remember former SAUSD Trustee Nadia Maria Davis?  She is in hot water now, up north, in Alameda, where her husband, State Treasurer Bill Lockyer, is trying to get her elected to the Alameda County Board of Supervisors.
"Nadia Lockyer, a candidate for the Alameda County Board of Supervisors and the wife of longtime politician and state Treasurer Bill Lockyer, has described herself on her campaign Web site as a deputy district attorney in the East Bay," according to the San Francisco Chronicle.
Nadia works in an office located at the district attorney's office, but she is no prosecutor.
Lockyer, who is registered as an attorney with the state bar, is in fact the executive director of the Alameda County Family Justice Center, a nonprofit center for victims of domestic violence, sexual assault and abuse.
When I ran against her for the SAUSD School Board, back in 1998, I had to call her a liar at a candidate forum, when she unloaded a bunch of B.S. about me to the attendees.  She couldn't speak Spanish to save her life, so I called her a "mentirosa," which is Spanish for "liar."
And here she is lying again in yet another campaign. 
I always cringe when I see photos of Nadia and Bill.  He looks old enough to be her daddy!  It is pretty gross.
Nadia appears to be the "Lorri Galloway" of Alameda.  Galloway also runs a non-profit, in Anaheim, and is running for the Fourth District on the O.C. Board of Supervisors.  Galloway is a carpetbagger and other bloggers have ripped into her murky past finances.
It would be great to see the Lockyers get punked in Alameda!  I have no idea who else is running, but they surely must be better qualified than Nadia.