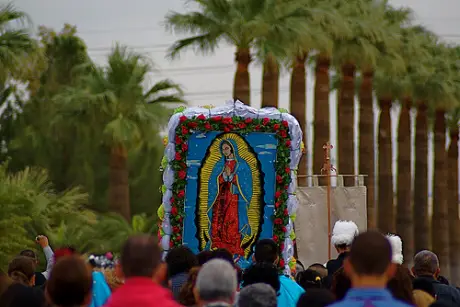 The Most Rev. Tod D. Brown, Bishop of Orange, will lead a procession of more than 1,000 Catholics in celebration of the Feast of Our Lady of Guadalupe, Saturday December 11, 2010 at 2:30 p.m. The procession will begin at the intersection of Raitt St. and Alton Ave. in Santa Ana and conclude at Christ Our Savior Cathedral (2001 W. MacArthur Blvd., Santa Ana) with an outdoor prayer service celebrated by Bishop Brown. Our Lady of Guadalupe is the Patroness of the Americas and this annual procession honors the rich history of the Patroness and the liturgical feast day set by Pope John Paul II in 1999. She is also the patroness of the Diocese of Orange.
The procession in Santa Ana will feature music, dancing and images of Our Lady of Guadalupe carried by participants. This event is an annual tradition, sponsored by the Office for Hispanic Ministries, in which the Diocese of Orange honors the Patroness of the Americas. This celebration is of great importance for all Catholics, especially Hispanic/Latino Catholics, and brings them together as community.
"The passionate devotion to Our Lady of Guadalupe has always been a living testimony to the persevering faith of the Latino people in the County of Orange. The whole Catholic community in Orange asks for her intercession so that the Lord Jesus may inspire us all to celebrate the beauty of our diversity. In his wisdom God has brought us together as gifts to one another," said Bishop Brown.
This event celebrates a vision and miracle that occurred in 1531 when a "Lady from Heaven" appeared to St. Juan Diego at a hill called Tepeyac, located northwest of Mexico City. She identified herself as the Mother of the True God and she instructed him to have the local bishop build a temple on the site. Miraculously, she left an image of herself imprinted on his tilma, a poor quality cactus cloth that was worn as clothing. St. Juan Diego's tilma shows no decay after more than 450 years and is on display at the Basilica of Our Lady of Guadalupe, in Mexico City, Mexico.
Over many years, 24 popes have officially honored Our Lady of Guadalupe. His Holiness John Paul II visited her sanctuary four separate times: on his first apostolic trip outside Rome as Pope in 1979, and again in 1990, 1999 and 2002. In 1999, Pope John Paul II, in his homily from the Solemn Mass at the Basilica of Our Lady of Guadalupe, declared the date of December 12th a religious feast for the whole North American continent in recognition of this event.