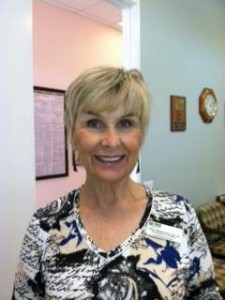 CHERYL WIELAND HONORED WITH FAIRHAVEN'S OLIVER HALSELL CARE AWARD
LAGUNA HILLS, CALIF. – May 21, 2013 – For the past 17 years, Cheryl Wieland of Age Well Senior Services has been an advocate for seniors all across South Orange County. While their needs vary widely from home to home, her unwavering commitment to helping them achieve and maintain a healthy and comfortable lifestyle is an inspiration to seniors, colleagues and the many communities she serves.

The Laguna Hills resident is being honored as the May recipient of Fairhaven's Oliver Halsell Care Award. Fairhaven, an Orange County mortuary and memorial park with locations in Santa Ana and Mission Viejo, created the recognition program in 2012 to pay tribute to individuals who have demonstrated exceptional care in their profession, community and the world at large.
"Cheryl is leading the charge to ensure that Orange County seniors are well cared for regardless of condition or economic status," said Marla Noel, president of Fairhaven. "In an era where so many vital programs are being cut, her courage and tenacity is essential to caring for our growing senior population."
As Case Management Coordinator, Wieland's job is to ensure that seniors are aligned with the proper resources to sustain a healthy and productive lifestyle in the home. Her responsibilities include making in-home visits, providing educational tools and resources, coordinating meal programs and helping to ensure seniors receive necessary medical attention. Wieland is also involved in writing grants to help local seniors receive important resources such as scooters and ramps to improve their quality of life. According to Wieland, this all boils down to one word: advocacy
"In everything I do, my primary goal is to always be an advocate for seniors," says Wieland "If something is not right, I do my best to correct it, while also reaching out to other community resources and agencies to encourage them to be advocates as well."
Wieland immigrated to the United States from Canada in 1984 with extensive experience as a Registered Nurse. After earning her Bachelor of Science degree in nursing, a colleague recommended she apply for a position at Age Well. "As a nurse, I had worked quite a bit with the senior community but never exclusively," says Wieland. "But once I started, I realized I found my niche." This was in 1996 and Wieland has been a proud member of the Age Well team ever since.
Today, Wieland remains thankful for both her career and the many gifts she gains from serving the senior population. "They teach me so much about wisdom, perseverance and integrity," she says. "Their knowledge and enthusiasm is what keeps me going."
In 2013, the biggest challenge is to maintain this high level of outreach amid drastic budget cuts, which have affected everything from transportation and adult day care to nutrition programs. Wieland remains determined to persevere on the strength of her convictions and the support of her colleagues. "Age Well is like a family," she says. "We always help each other no matter what the circumstances. We can do it!"
Wieland will be honored at Fairhaven's Oliver Halsell Care Awards banquet in the fall at Fairhaven's Mission Viejo location. The banquet honors a year's worth of achievements among the local community. Additionally, Fairhaven will make a donation to Age Well Senior Services on Wieland's behalf.
About Fairhaven's Oliver Halsell Care Award
Fairhaven's Oliver Halsell Care Award pays tribute to Orange County individuals whose kindness and dedication to serving others is inspirational. These courageous individuals go above and beyond their job descriptions to serve with the utmost care and compassion. Fairhaven's Oliver Halsell Care Award winners come from many fields including private care, hospice, social work, counseling, assisted living, nursing, therapy and volunteer work.
For more information and to nominate a deserving candidate, visit Fairhaven's website: http://www.fairhavenmemorial.com/community/oliver-halsell-care-award or email CareAwards@FairhavenMemorial.com.
About Fairhaven
Founded in 1911 by Oliver Halsell to provide a peaceful and comforting place for families to honor their loved ones, Fairhaven Memorial Park & Mortuary is Orange County's most beautiful independently owned and operated full-service mortuary, crematory and cemetery. With the memorial park and mortuary in Central Orange County and an elegantly appointed mortuary in South Orange County, Fairhaven offers a wide range of pre-need and at-need services provided with care and compassion. Fairhaven is dedicated to celebrating the individual, providing services that are as unique and wide-ranging as the people they celebrate. Additional information is available at www.fairhavenmemorial.com. Connect with Fairhaven at www.facebook.com/fairhavenmemorial or www.twitter.com/fairhavenoc.
# # #