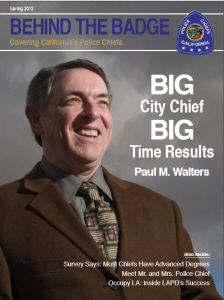 EXCLUSIVE – The Santa Ana City Council met today in a last-minute closed-session to consider the fate of City Manager Paul Walters.  Don't buy the B.S. that they were also reviewing the City Attorney's performance.  She was tossed onto the agenda to make this look like less of a kangaroo court.
My sources tell me that a decision was made – the City Council will fire Walters at the second Council meeting in January, even though he has meant so much to this city over the years, building and managing a state-of-the-art prison that has turned a profit by leasing space to other police agencies; saving our city budget last year when things looked so bleak; and lowering crime throughout his tenure as our Chief of Police and City Manager, to levels not seen in our city in many, many years.
According to City Hall insiders, the City Council is doing the bidding of the unions – the police association and the SEIU.  They have it in for Walters and won't take no for an answer.  Regrettably even Mayor Pro Tem Sal Tinajero is now siding with the Benavides cabal, giving them the fifth vote they needed to string up Walters.  Tinajero reportedly buckled to labor pressure.
Walters will return to his post as Chief of Police, but the City Council will quickly move to have their new City Manager fire him from that post too.  Sources say that Walters has been directed to provide the Council with settlement terms for his exit.
I am also told that Santa Ana Parks and Recreation Agency Director Gerardo Mouet, who also serves on the Orange County Fair Board, is the top candidate to replace Walters – and he has the four votes of the Benavides faction.
Mouet is a nice guy and a real fan of the arts, but while he has made many hard decisions, including outsourcing a lot of union jobs, he strikes me as a bit soft compared to Walters.  I hope he can withstand the demands of labor and the petty, selfish Council he will have to serve.
I hope Walters will go on to run for Orange County Sheriff again, particularly if incumbent Sheriff Sandra Hutchens is forced to retire by the breast cancer she is currently bravely battling.  Walters remains one of Orange County's top public administrators and he would likewise be a good fit as a top County administrator at any level, in any department.  I thank him for his many years of stellar service to our community.
As for the Benavides junta, they have two years to run our city into the ground.  Benavides and his ally Michele Martinez are both up for re-election in 2014.  In fact I think Tinajero is too, although I expect him to run against Assemblyman Tom Daly for the 69th Assembly District.  They will all have to face the music as a revived Mayor Miguel Pulido will have two years to marshal his forces – having already trashed Benavides in this year's mayoral contest.