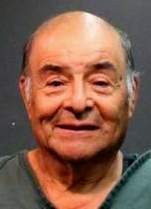 Santa Ana Police Department
Advisory: Detectives Arrest Suspect For Sexually Molesting Developmentally Delayed Minor – Believe There May Be Additional Victims
Arrested: Francisco Ramirez (75) Santa Ana
Francisco Ramirez (75-years-old) was arrested for sexually molesting a 10-year-old developmentally delayed girl on multiple occasions. Ramirez was a volunteer at the Southwest Senior Center at Jerome Park. The incidents occurred during the month of July at the senior center garden.
While visiting Jerome Park, the victim became separated from her parents and wandered into the garden at the senior center. Other children at the center witnessed the molestation and immediately told the victim's parents. Ramirez fled the scene and was not immediately identified.
Detectives ultimately identified Ramirez and arrested him. Ramirez confessed to the allegations and made statements indicating he may have victimized other children. He was booked at the Orange County Jail on multiple child abuse charges and his bail has been set at $1,000,000.
Santa Ana Police Department Detectives believe there may be additional victims and ask anyone with information to contact Detective Nick Vega at 714-245-8368, nvega@santa-ana.org or Orange County Crime Stoppers at 1-855-TIP-OCCS.