Do you remember the Little Sparrow cafe in DTSA?  They were opened just a few years ago in 2013, by Bruce Marsh and his wife, Naseem Aflakian, who live in Floral Park. At the time Marsh did not appear to have much experience in the restaurant business.
Apparently Marsh and his wife have closed the Little Sparrow and are going to keep it but change it to something they are calling BlackBox, according to their website.
Here are excerpts from the message Marsh posted on their website about their transition:
Over the past three years Little Sparrow quickly grew from a neighborhood cafe into a nationally and regionally award winning restaurant. Along the way we had a lot of fun – turning ourselves into a French pop-up, being on a reality tv show, and just generally being a part of the burgeoning dining and cocktail scene in Orange County.

Now it is time for this little bird to pivot once again.

This Saturday, April 16th, will be our final day of service as the Little Sparrow you know so well.

What is it to become? You'll have to wait until next week for all the details.
BlackBox will retain Little Sparrow's craft cocktail program and Hopper & Burr will still be serving coffee during the day, once they reopen.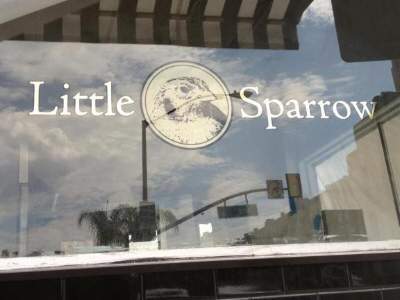 After receiving a slew of minor health violations, the Little Sparrow apparently cleaned up their act as they received the Orange County Health Care Agency's Award of Excellence this year.
It makes no sense for the Little Sparrow to toss aside their moniker and brand after getting so much free publicity when the restaurant appeared on a Bravo reality show called "Best New Restaurant." Then again it may well be that Marsh wants to forget that after he personally blew their chances by forgetting to plate salmon on what was supposed to be a salmon entree.
It may also be that the Little Sparrow lost their identity after award-winning Pastry Chef Nasera Munshi left early last year and then a few months later, for reasons unknown, veteran chef Eric Samaniego was let go by Marsh. Much of Sparrow's early praise came when Munshi and Samaniego led the kitchen, according to the O.C. Register.
The Little Sparrow was  located at the corner of 3rd St. and Main St., in DTSA.  They had a three and a half star rating on Yelp, which also noted that their prices merited two dollar signs.  Their Yelp reviews were somewhat mixed but generally positive, although Yelpers often complained of their high prices and small portions.