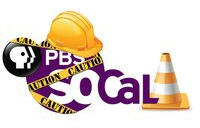 Time: Saturday, April 16 · 3:30pm – 6:30pm
Location: Future PBS SoCal TV Studio at 3080 Bristol St., in Santa Ana
We are inviting you to help build the Southern California public media online presence much like the Amish pastime of barn raising. Your ideas and participation in thoughtful discussions about what public media means to Southern California are needed, instead of hammering and pushing up walls. Come have fun rolling up your sleeves and contributing!

Attending will give you an opportunity to see and check into the PBS SoCal studio on foursquare day and collectively envision a unified presence for PBS SoCal. You don't need to be a web developer to be included, we are looking for educators, students, locally active bloggers, filmmakers, and PBS lovers. There will be beer, pizza, fun giveaways, opportunities to volunteer, a special screening, and other great public media enthusiasts to meet and greet. The studio is still under construction as is the website so bring your imagination. There will be wifi (and power outlets) for live blogging and tweeting.
As part of the PBS SoCal online redesign we are looking for more ways to include our audience and better collaborate with the PBS stations KVCR and KLCS around local content. We are starting small to give everyone who attends a chance to participate in this first of several intimate gatherings. You will be able to participate again as the project continues. Our goal is to strengthen PBS SoCal's public media engagement through ongoing collaborations with the public: i.e., you.
Where to park:
Free parking for this event can be found in the parking garage across from the Hilton garage. When you turn into the business complex, go to the end of the road and turn left. There will be someone at the back entrance to the garage to greet you and show you the way.
Click here to RSVP on Facebook.