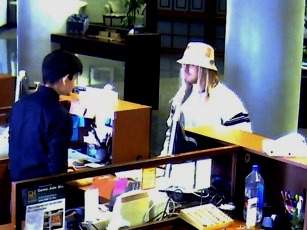 A bank robber who liked to wear hats when he commits crimes has struck again – this time he robbed the Farmers & Merchants Bank at 1750 E. Seventeenth St., in Santa Ana, on Monday at around 4:15 p.m., according to the O.C. Register.  This bank is located in the parking lot of a Superior Grocers and is across the street from a Wells Fargo Bank.
The FBI believes this is the same guy who previously robbed a Farmers & Merchants in Orange on Tuesday and a Bank of the West in Santa Ana on Thursday.
The FBI has dubbed the suspect the "pre-season bandit" because he likes to wear sports caps while he robs banks.
This time he was wearing a long wig and prescription glasses when he walked into the Farmers & Merchants bank and handed a note to a teller, demanding cash and indicating that he was armed, according to the SAPD.
The suspect is described as a white man in his 30s standing about 6 feet tall and weighing about 180 pounds.
No one has been injured in any of these robberies although the man always threatens that he has an unseen gun.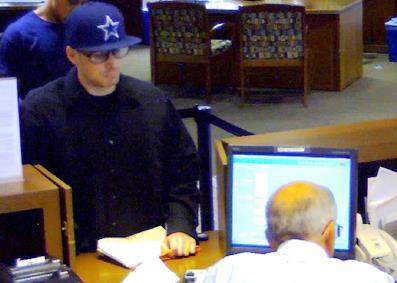 In his last two robberies the suspect wore sports caps with the logos of the Miami Heat and the Dallas Cowboys.  This time he wore what looks like a fisherman's hat.
If you have a tip about this robbery suspect you can call the Orange County Crime Stoppers hotline anonymously at 1-855-TIP-OCCS. Tips can also be made online at occrimestoppers.org.
This latest robbery occurred in Santa Ana's Ward 2, which is represented by Councilwoman Michele Martinez.